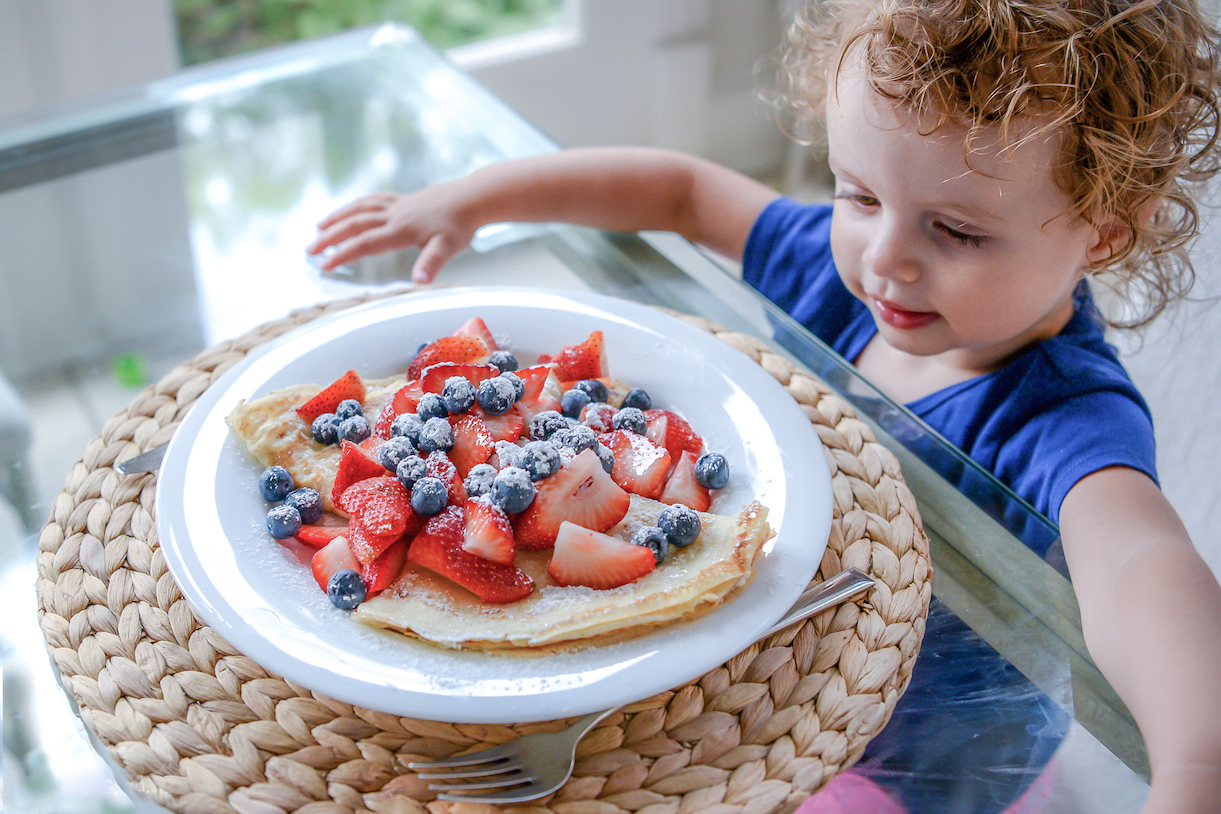 SUMMER PANCAKES WITH RICOTTA AND LEMON
I love pancakes in many forms but these ones are doing the furore in our house! Their phenomenon is their lightness and slightly citrus taste. They are just perfect for today's hot summer days so give it a try!
These pancakes came from my inner need to eat something new during my pregnancy. The original polish version includes farmer cheese, cinnamon, sour cream and vanilla sugar. Those are also really good but I was just craving something new. One important thing to remember before you start preparing this fabulous dish – the dough needs to be as thin as possible – light in consistency when poured into a hot pan. All details below: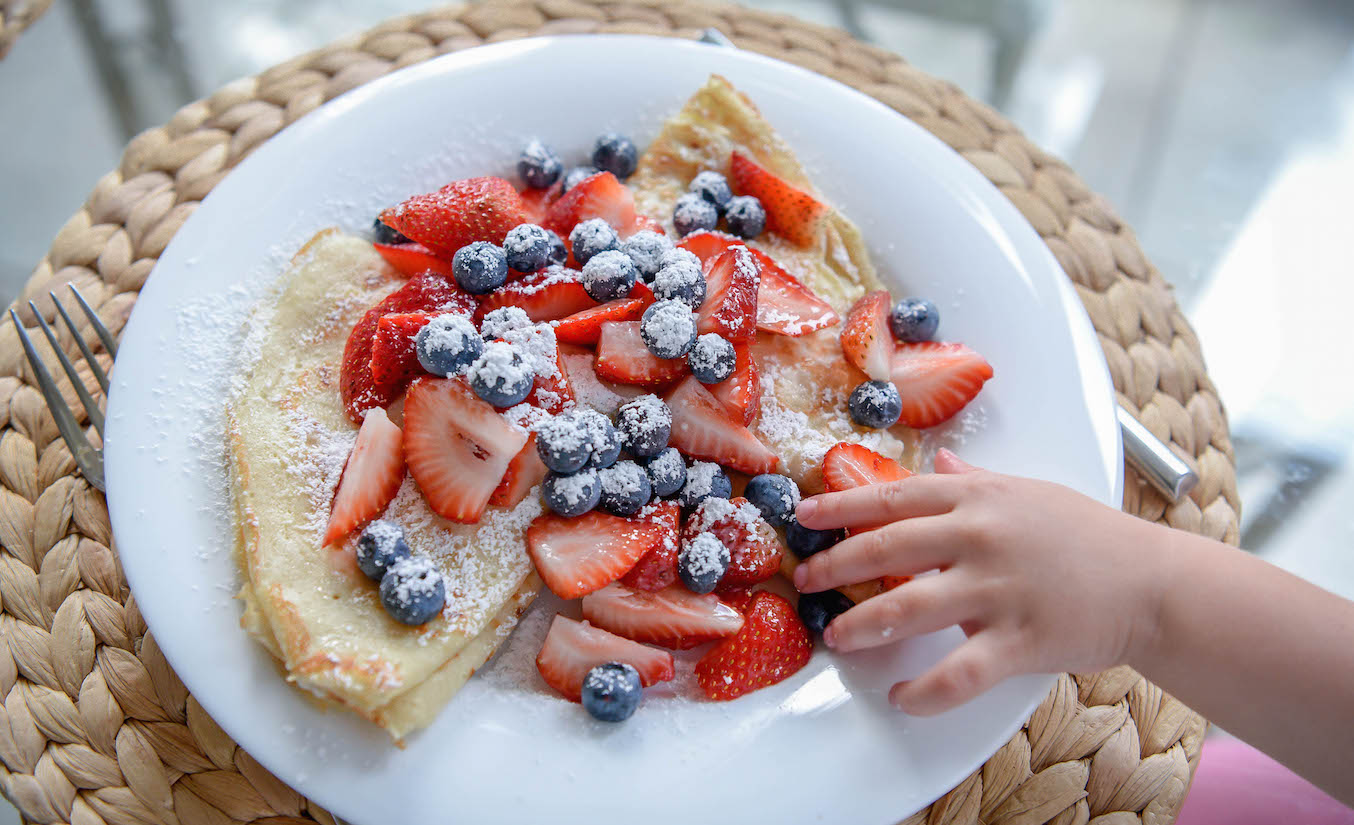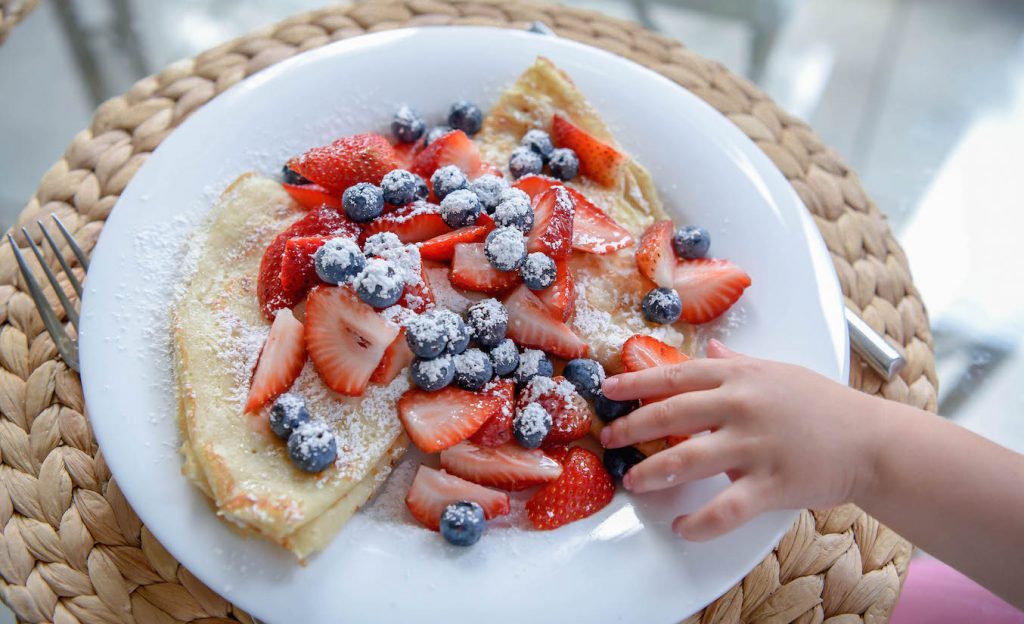 Ingredients for approx. 20 pancakes:
• 2 cups of whole wheat or white flour
• 2 whole large eggs
• 2 cups of milk (I use whole milk only)
• 1 and 1/2 cups of water
• A pinch of Himalayan salt
• 1 teaspoon of coconut sugar or xylitol or whatever sugar you like (not artificial sweetener though!!)
• 1 teaspoon of organic vanilla extract
• coconut oil for frying
If the dough is too dense and the first pancake gets too thick, add more water. Much depends on the flour you use.
Filling:
• 1,5 lb of ricotta cheese
• 1 whole large lemon
• 3-4 large tablespoons of real honey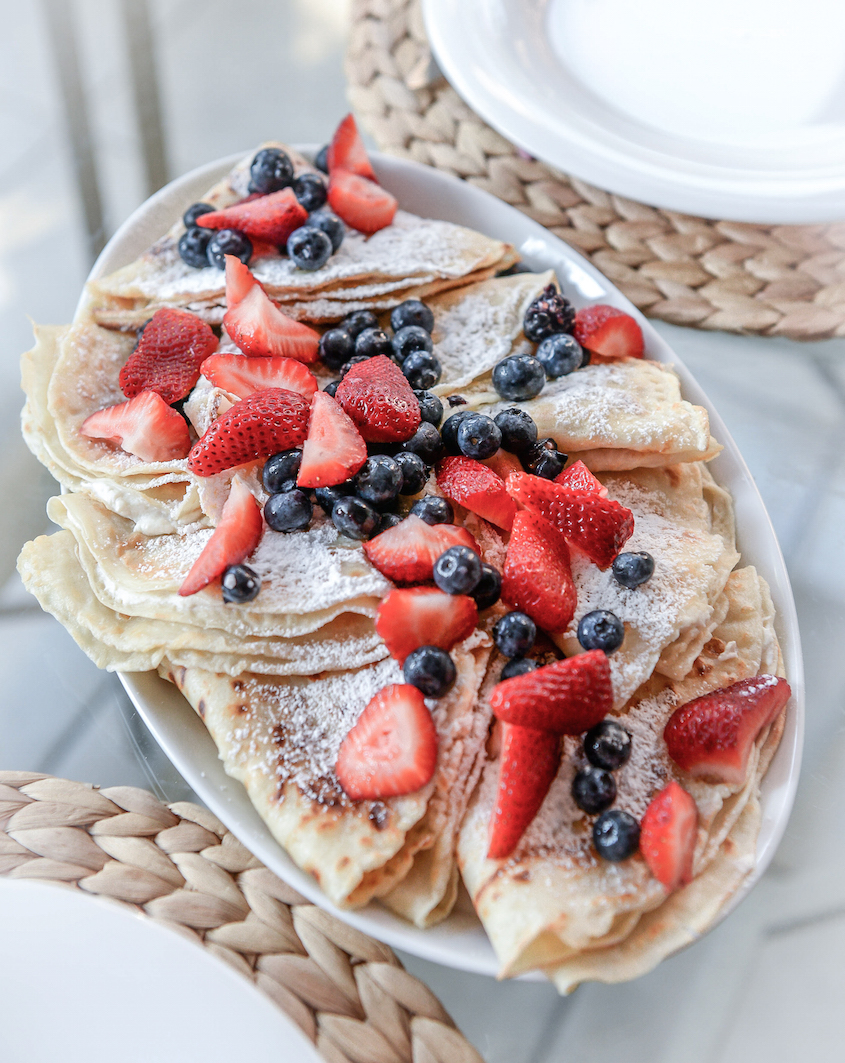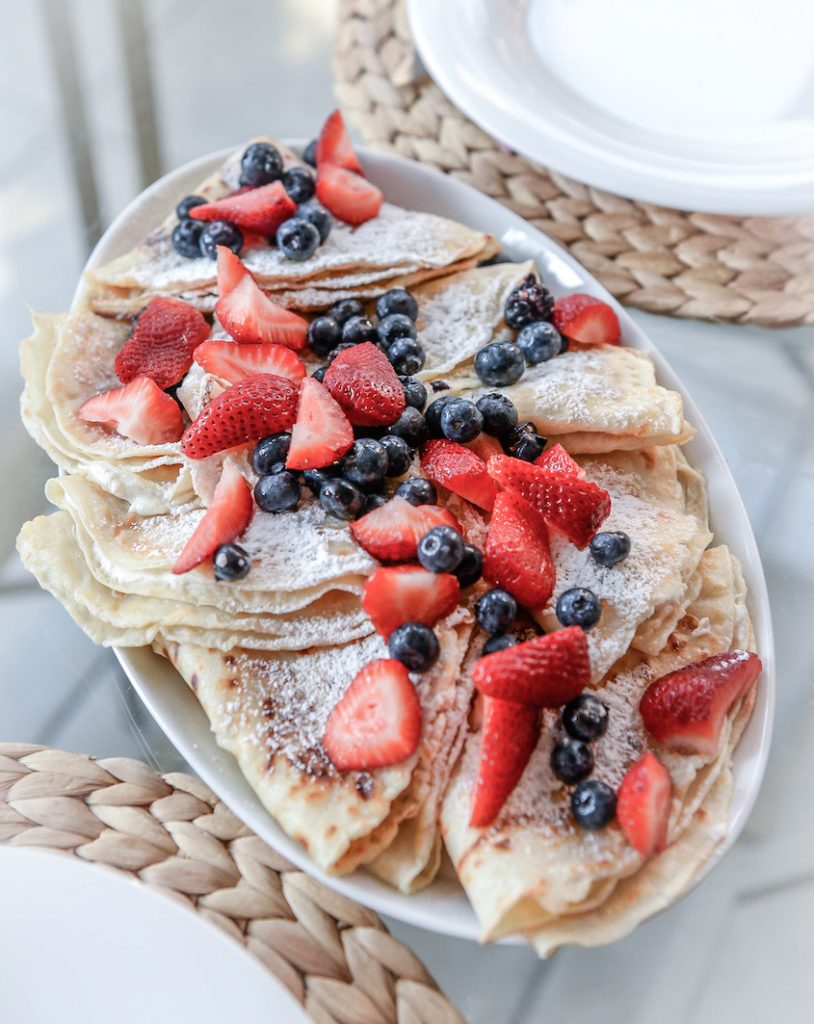 Preparation:
Mix the dough ingredients for a few minutes at high speed and set aside. Remember that the dough needs to be light and fairly sparse.
Ricotta combined with a squeezed lemon juice and honey. Taste it. You might need more lemon or more honey. All depends on how sour or how sweet you prefer.
Fry pancakes for about 1.5 minutes each side on the coconut oil. Do not use olive oil for frying. Olive oil is not good for frying and the taste of it is not good with pancakes. Coconut oil is one of the best choice of frying oils and it will add delicious aroma to you pancakes. To each pancake, add a large spoonful of flavored ricotta cheese and wrap it. Set the oven to 140 °C / 285 °F and keep the pancakes warm in the oven for 10 minutes.
Remember the basic French maxim!! Good pancakes are only warm pancakes! This is a gold rule!
Cut your favorite seasonal fruits. We usually eat these pancakes with strawberries and blueberries or raspberries. Pass the warm pancakes on the platter, cover with fruits and sprinkle lightly with icing sugar or coconut sugar. Done!! 🙂 Bon appétit!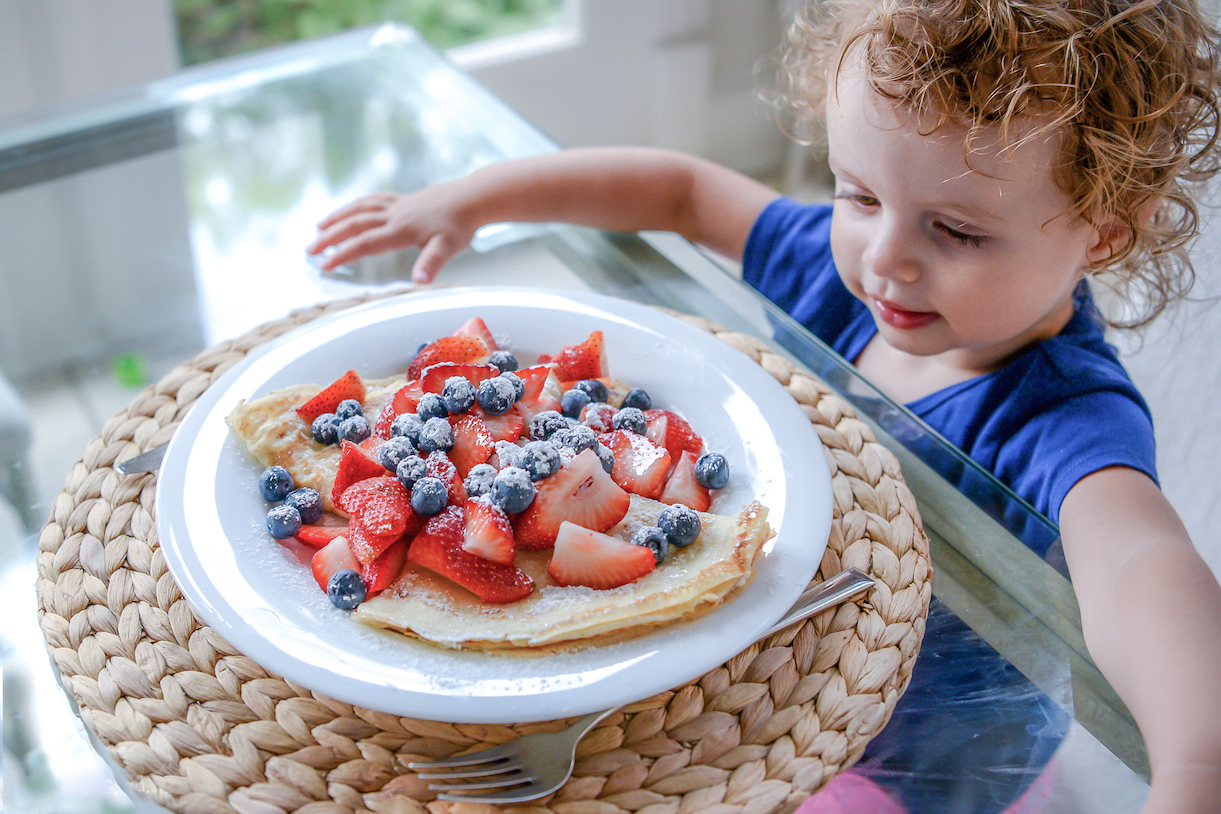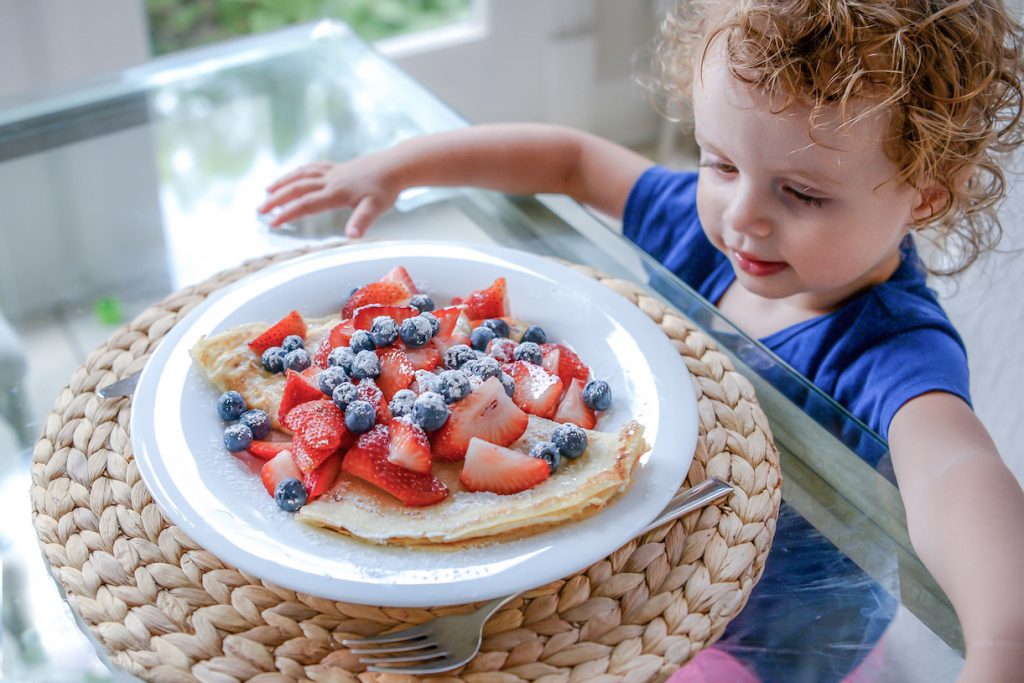 SaveSaveSaveSaveSaveSave
SaveSaveSaveSave