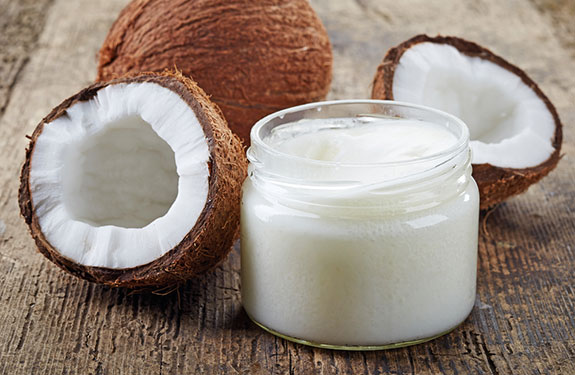 MY 5 FAVORITE WAYS TO USE COCONUT OIL
I discovered the coconut oil two years ago. Lucky are those who have already been using it for a longer time. For me, it's the biggest discovery of the current and last season. I absolutely adore it and use several times a day in a hundred of different ways. However, below I present my five favorite ways to use the unrefined organic cold-pressed extra virgin coconut oil: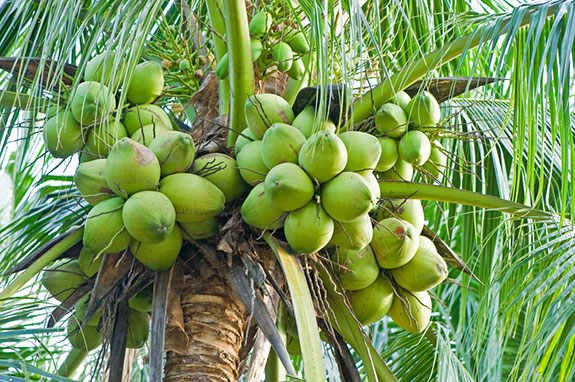 1. Frying – The coconut oil has a higher combustion temperature than the olive oil, and thus is very suitable for deep frying. I was using only olive oil for frying throughout all my life, and it was a total mistake, because olive oil should only be used when cold. I fry literally everything in the coconut oil! Starting from scrambled eggs, through pancakes, ending with fish and meat. This oil, however, the less processed, the better tastes and smells of the coconut, therefore it should be introduced gradually into the diet, if you haven't been the coconut fans congenitally. But if this taste bothers you e.g. in pork chops, or fried eggs, use the home-made lard or clarified butter instead.
2. Nails – Thinking back, I have always had problems with nails – fragile, brickle, splitting, soft. I couldn't even dream about growing long nails. What my happiness was, when light years ago acrylic was introduced, and soon after – gel. I became addicted to them at once, and every month over the years I complemented my nails by putting this muck on my plates. With time, hybrid nail varnish was introduced and as a result I entirely resigned from the gel. But is the hybrid much "healthier" than the remaining chemicals? I am actually not sure about it, although I believe, that it's a little bit "healthier", because I tend to use it from time to time for the so-called "big events". However… I no longer do it on the daily basis! I have been rubbing the coconut oil into my nails plates and cuticles for some time. But what has turned out…? Cuticles are soft, and nails are harder and they don't split! It is a miracle for me, because after 33 years I have already cast doubts on all this divine nutrients advertised by the most famous faces of Hollywood. I also have to add, that my natural nails are currently 3 mm long, which is a really great achievement for me!
3. Dental hygiene and removing toxins from the organism – I have a habit of rinsing my mouth with the coconut oil every day in the morning on an empty stomach for 15 minutes. Sounds strange or tasteless? You can easily get accustomed to it, or even addicted. But, what is it for? The coconut oil has an excellent ability to remove toxins from the organism and harmful bacteria from the oral cavity. It is able to purify blood of toxins, without harming gums and teeth, since it percolates through oral mucosas. People who apply it regularly in this very way, have a huge chances to get rid of problems, and even skin diseases, problems with sleeping, hormonal disorders, headache, the listlessness, tendency to infection and arthritides. Whiter and healthier teeth, an improvement in the gums state, better condition of the organism, replacing the chronic tiredness with the new energy and the beautiful appearance of the skin, hair and nails constitute the advantages of such usage of the coconut oil. One spoonful of oil and rinsing with it for 15 minutes every day on an empty stomach will be enough. Oil in your mouth doesn't disturb, because its gentle coconut taste has nothing in common with e.g. sunflower oil or olive oil.
4. Hair – my long and curly by nature hair is dry and after using many nutrients still without a glitter. Now, I've already forgotten about nutrients, because the coconut oil has permanently replaced them. It's incredily easy to comb your hair out after using it, the hair structure changes for the richer and fuller, and additionally this amazing glitter and smell. When I have more free time, I put a big spoonful of the coconut oil on dry hair before washing them, then I wrap them in the foil and leave for 2-3h. Next, I shampoo my hair and I comb them out wet. But if the time doesn't allow me, I apply oil like an ordinary nutrient, that is I put a small amount of the oil only on the hair ends after washing, spread, comb out and rinse. In such situation, you should apply quite smaller amount of the oil and omit upper hair parts, otherwise you will come out of the shower with greasy hair. Hair will definitely become stronger and healthier.
5. Soft feet – my skin tends to dry up. It's impossible for me e.g. not to cream my face in the morning or before going to bed. Otherwise, I would have the feeling of puckered skin, with which most of you are probably familiar. Happy are those who don't know what I am talking about. The same can be said about feet. After every bath, I had the habit of creaming my feet with a foot cream. However, this cream soaked up quickly and didn't give the feeling of full moistening, or greasing. Now everything has changed! After the bath cream your feet with the coconut oil and put them into cuddly cotton socks for the night. Feet like a dream! You should just experience it.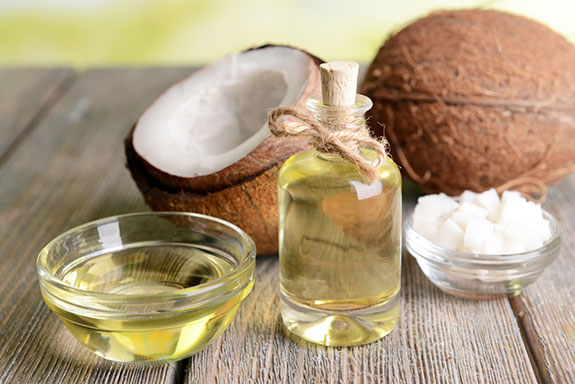 The coconut oil has became my biggest culinary and cosmetic friend. We've made friends for ever, and I learn its phenomenal properties basically every day. I use it in so many cases! I also use it for the make-up removal, because all the other liquids sensitize me. Mixing  it with coarse-grained sea salt I prepare an amazing body scrub, or e.g. I use it as the protective lipstick for my everlastingly chapped mouth. However, these five applications which I described above, are my absolute addictions and I use them every day. If you didn't try it yet, you should definitely do it!
This is the oil that I use: