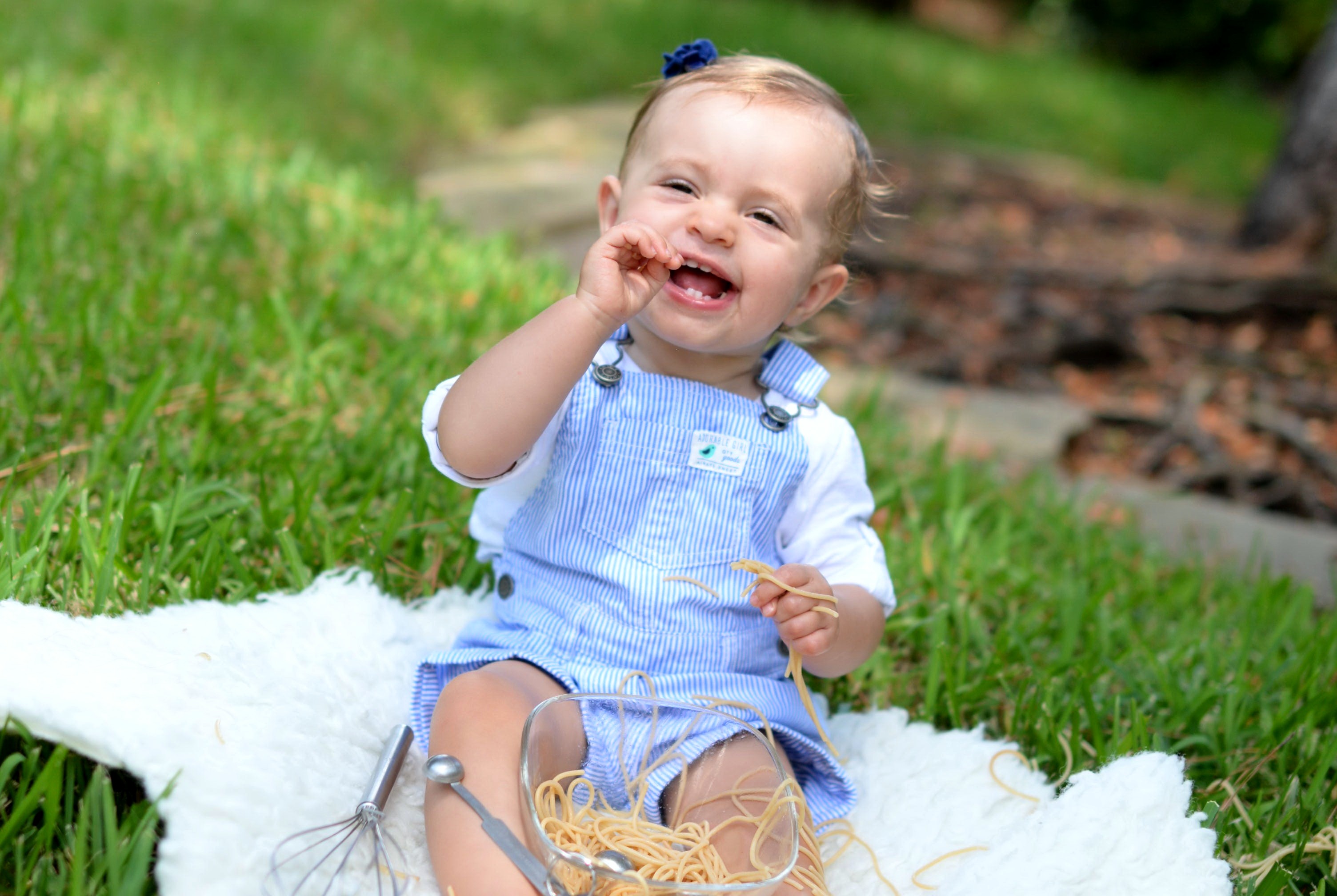 I EAT ON MY OWN MOMMY
BLW – Baby Led Weaning. Fantastic method to start teaching your baby to eat on their own. It allows them to learn and discover the flavors, colors, shapes and textures of all sorts of goodies. We introduced it early to our daughter and use it basically every day. The basic rule of this method is – let your baby fully enjoy being messy 🙂 Messy baby, happy baby! 🙂
There are many advantages of BLW… Babies are in control of what they eat. They stop when they feel full, or continue when they feel still hungry. Quite often you don't have to cook special meals because baby eats what you eat. All veggies you prepare for dinner are perfect for BLW training. Babies are more likely to be better eaters when they have been exposed to such variety of tastes and textures, and been in control of their eating, from early age onwards. Babies learn to grab, chew and then swallow. It's a great practice for them!
When to start?
Approx. 6 months of age you can start your adventure with BLW. For children it's an extraordinary experience and fun. I know it will be messy but your baby will have so much fun 🙂
What to serve?
You should choose products that are safe for your child. Babies, even they are not teething yet, are able to snap off a piece of pear, banana, watermelon, cooked carrots, and even a piece of hard apple (it happened with our daughter). We started from al dente cooked vegetables as:
• carrot
• parsnips
• sweet potato
• celery
• beet
• cauliflower
• broccoli
If your baby might be allergic, wait a few days until trying a new product. An interval of four days is usually enough.
After our baby got comfortable with above veggies we further introduced:
• avocado
• pear
• banana
• melon
• watermelon
• raspberries
• blueberries
• apple
• peas
• zucchini
• fresh cucumber
• whole wheat bread
• whole wheat pasta
On Saturday our baby girl turns one. Until now she eats almost everything. The only thing we grind throughly and mix is meat for extra proteins. A recipe for nutritious soup you will find here.
Daily practice makes a child independent and more open for new tastes. We let our daughter try almost everything except junk foods like chips, candies, high sugar products, etc. BLW learns, develops and entertains. It is a great introduction of foods other than formula or breastmilk and I fully recommend it to try.
BLW – Baby Led Weaning, inaczej Bobas Lubi Wybór, a jeszcze inaczej Samodzielne Jedzenie Niemowląt. Dużo się o tym czyta, słyszy… taka moda. Mody są jednak różne, a tą uważam za słuszną i co ważniejsze skuteczną. O samej metodzie szczegółowo możecie przeczytać na setkach innych "maminych" blogach, dlatego nie będę tematu powielać, natomiast ujmując temat w skrócie metoda ta polega na oswajaniu dziecka z samodzielnym spożywaniem pokarmów. Pozwala ona na naukę i odkrywanie smaków, kolorów, kształtów, struktury wszelakich smakołyków. My wprowadziliśmy ją dość wcześnie i stosujemy w zasadzie codziennie, nie rezygnując przy tym oczywiście z mleka. Inaczej ujmując  – BLW poszerza dietę miemowlaka. Podstawowa i żelazna zasada tej metody, to – pozwolić dziecku się wybrudzić. Dziecko brudne, dziecko szczęśliwe! U nas się to sprawdza w 100% 🙂
Kiedy zacząć?
Ok. 6 miesiąca życia możemy rozpocząć naszą przygodę z BLW. Dla dzieci to niezwykłe przeżycie i … zabawa. Wiem, że niektórzy należą do grupy, która nie uznaje "zabaw z jedzeniem" i po części to rozumiem ale w tym przypadku dobrze jest pozwolić dziecku na trochę szaleństwa. Ostrzegam… będzie brudno ale bardzo wesoło 🙂
Co podawać?
Należy wybierać produkty bezpieczne dla dziecka. Maluch nawet jeśli  nie ma jeszcze ząbków doskonale potrafi sobie "odgryźć" kawałek gruszki, banana, arbuza, ugotowanej marchewki, a nawet kawałek twardego jabłka (tak było w naszym przypadku). Zaczęliśmy zatem od gotowanych warzyw al dente:
• marchew
• pietrucha
• słodki ziemniak
• seler
• burak
• kalafior
• brokuł
Nasz bączek nie ma żadnych alergii, zatem nie przestrzegaliśmy rygorystycznie zasady odstępstw kilku dni pomiędzy różnymi produktami ale warto o tym pomyśleć, jeśli wasz maluch jest alergiczny.
Kolejne produkty jakie wprowadzaliśmy stopniowo to:
• awokado
• gruszka
• banan
• melon
• arbuz
• maliny
• borówki
• jabłko
• groszek zielony
• cukinia
• ogórek świeży
• chleb pszenno-żytni
• makaron żytni
W najbliższą sobotę nasza kruszynka kończy roczek i można powiedzieć, że wszystko zajada ze smakiem i chętnie próbuje nowych smakołyków. Jedyne czego jeszcze nie podajemy w postaci do gryzienia, to mięso, które jest zbyt trudne do przegryzienia dla stworka z ośmioma ząbkami 🙂 Mięso zatem gotuję i podaję w formie zupy, na którą przepis znajdziecie tutaj.
Najbrudniej natomiast jest przy jedzeniu awokado, banana, malin, jabłek i buraków. Najbrudniej czyli najweselej, bo przecież awokado, banan i maliny fantastycznie zgniatają się w małej rączce i robią dużo zamieszania dookoła 😉 Natomiast w temacie plam, to najgorsze są te z jabłka. Niby jabłko nie koloruje, a zostawia plamy prawie nie do sprania. Ale co tam… wszystkie plamy warte są tego uśmiechu od ucha do ucha!
Codzienne praktykowanie powoduje, że dziecko staje się bardziej samodzielne, uczy się wpierw przeżuwać, a następnie połykać, jak również rozbudza swoje kubki smakowe. My w zasadzie dajemy Celince do skosztowania wszystkiego oprócz produktów zbędnych jak chipsy, cukierki, paluszki, itp., których i tak nie jadamy i w domu nie trzymamy. Podsumowując BLW uczy, rozwija i bawi, zatem polecam, zachęcam, namawiam 🙂