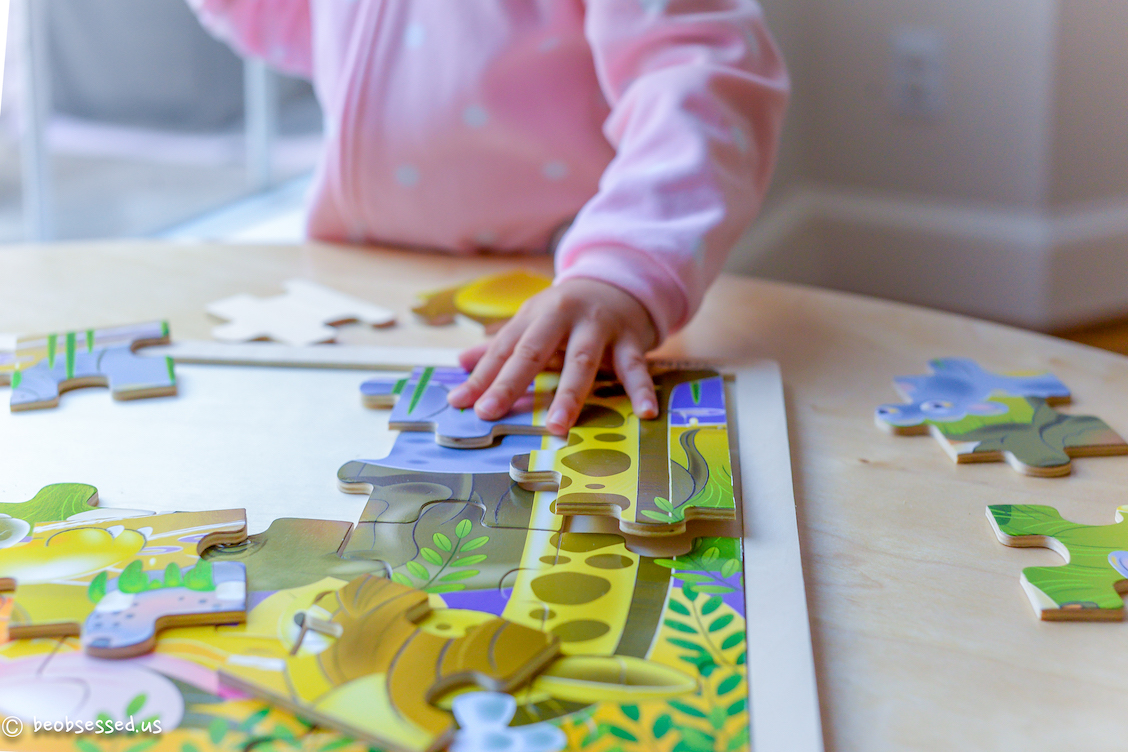 PUZZLES AND THEIR INFLUENCE ON A CHILD'S DEVELOPMENT
Education through entertainment is the most demanded form of amusement for children. Starting from the first days of their lives, the little ones absorb everything that surrounds them. They observe their parents, siblings and even pets.  They look and listen very carefully and eventually copy us. With every month that passes, they develop their imagination and the ability to think logically. You can read about the advantages of educational entertainment on The Genius of Play website – a fabulous organization that supports parents in providing information and inspiration for making playtime an important part of each family's day.
Therefore, it's important to keep the baby's intellectual development in mind from the beginning and one of the best and most pleasing form of educational entertainment is puzzles. They used to be associated with a large amount of little parts and the need of great patience and determination. Nowadays puzzles are also splendid fun for the youngest!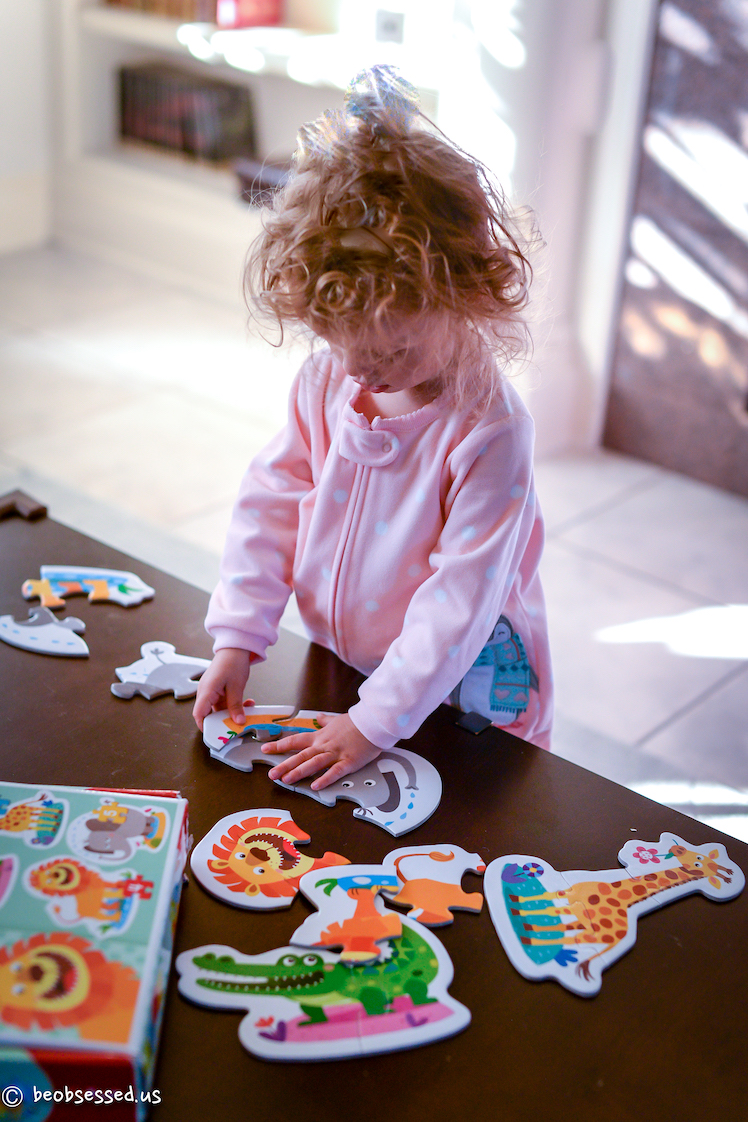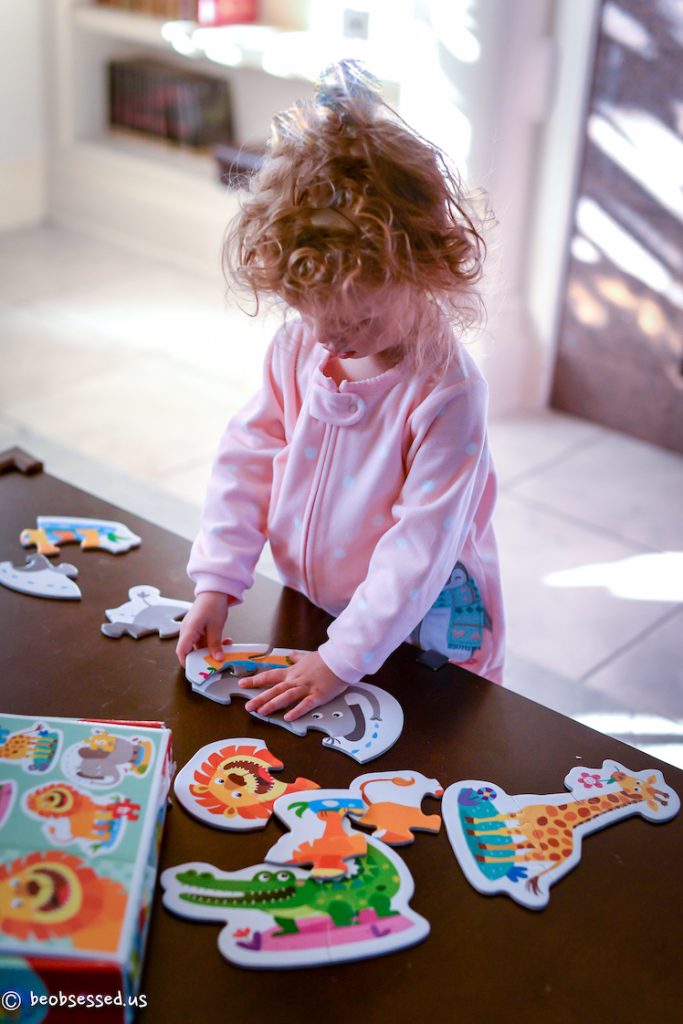 Currently, there are beautiful, exceedingly colorful and thematically grouped puzzles for children on the market. Animals, favorite cartoon characters or various pictures – everything suitable for the respective age and needs of tiny hands. There are cardboard puzzles, wooden puzzles, foam puzzles and even 3D puzzles. Therefore there is a serious range to choose from.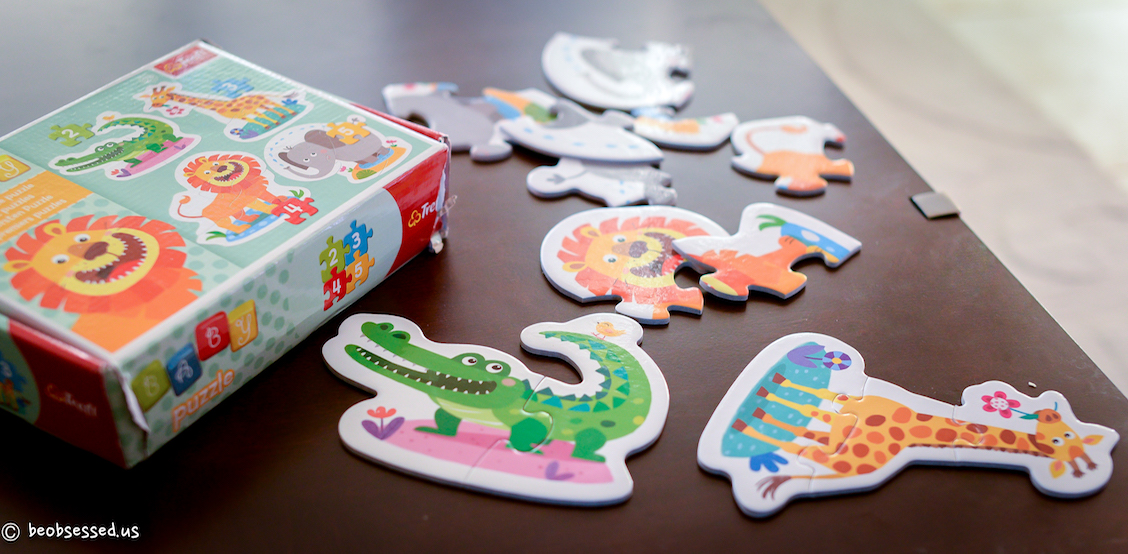 But what makes puzzles so special that it's worth investing in new ones for every stage of child's development?
Take a look for yourself… I present to you advantages of putting puzzles together:
1. The child learns concentration, trains its creativity and the ability to associate things.
2. Putting puzzles together naturally stimulates the child's brain development.
3. Puzzles improve designing skills.
4. They develop self-confidence and powers of observation.
5. Puzzles are great for memory training.
6. While trying to put pieces together, the baby trains grasping and precision of movements.
7. Connecting puzzles increases the stereoscopic vision.
8. Children, who put puzzles together, learn patience and train the ability to engage in tasks – it will be needed later at school.
9. Mutual playing with puzzles strengthens the family relations and positively influences the building of relationships.
10. Puzzles perfectly teach "team work" while developing social competences.
11. We parents, while playing with our little ones and dedicating our time and attention (for example putting puzzles together with them), build our authorities because in the eyes of our children we are the absolute masters 🙂
12. As you can see, puzzles benefit while supporting the development of a child's intelligence as well as his/her motor development.
You can start playing puzzles with your little ones when they are 18 months of age. We started a little earlier with Celina but actually just when she turned 18 months, puzzles have become her favorite game and they are until now.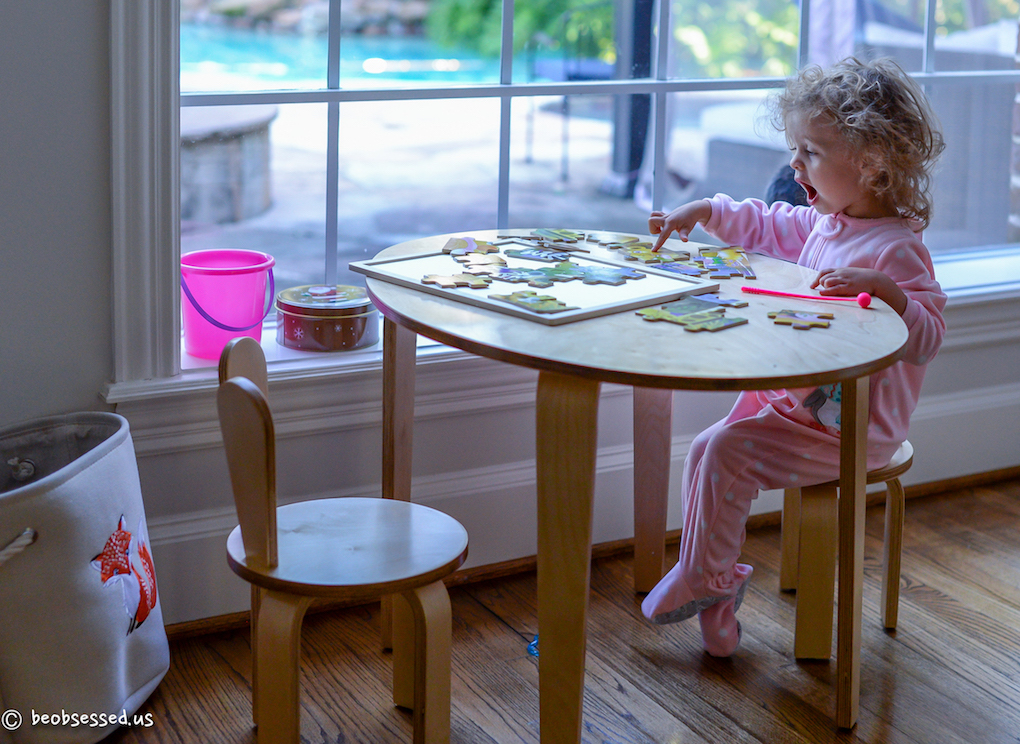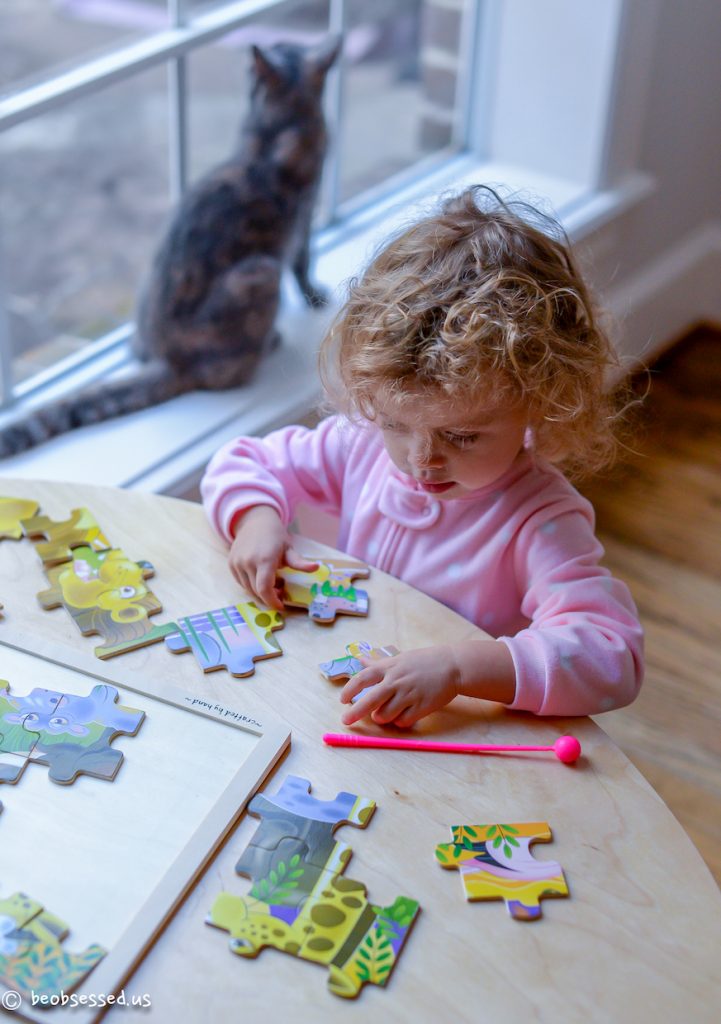 When you start your puzzle adventure, you should begin with using simple jigsaws with big elements. This will help your baby learn how to distinguish shapes and colors. You can even buy 2-piece puzzles and then move on to more pieces. When you notice that your kid gets bored, you can slowly increase the amount of pieces.  Celina is currently 27 months old and with a little help from us, she connects 24-piece puzzles but she still likes those with fewer pieces. Every baby is progressing on an individual basis and you shouldn't put pressure neither on the child nor on yourself to increase the number of pieces and their difficulty level. There will be time for all. Puzzles teach but most importantly should be fun and a great way of spending time together.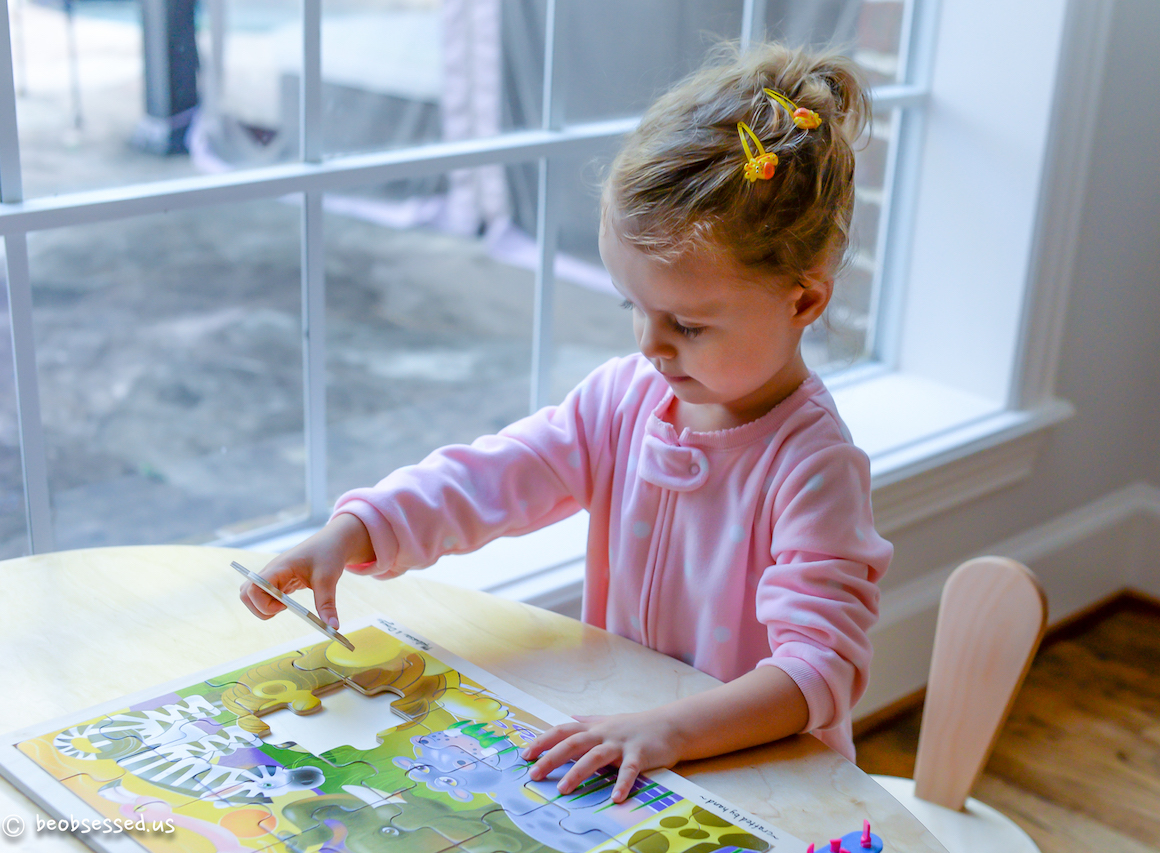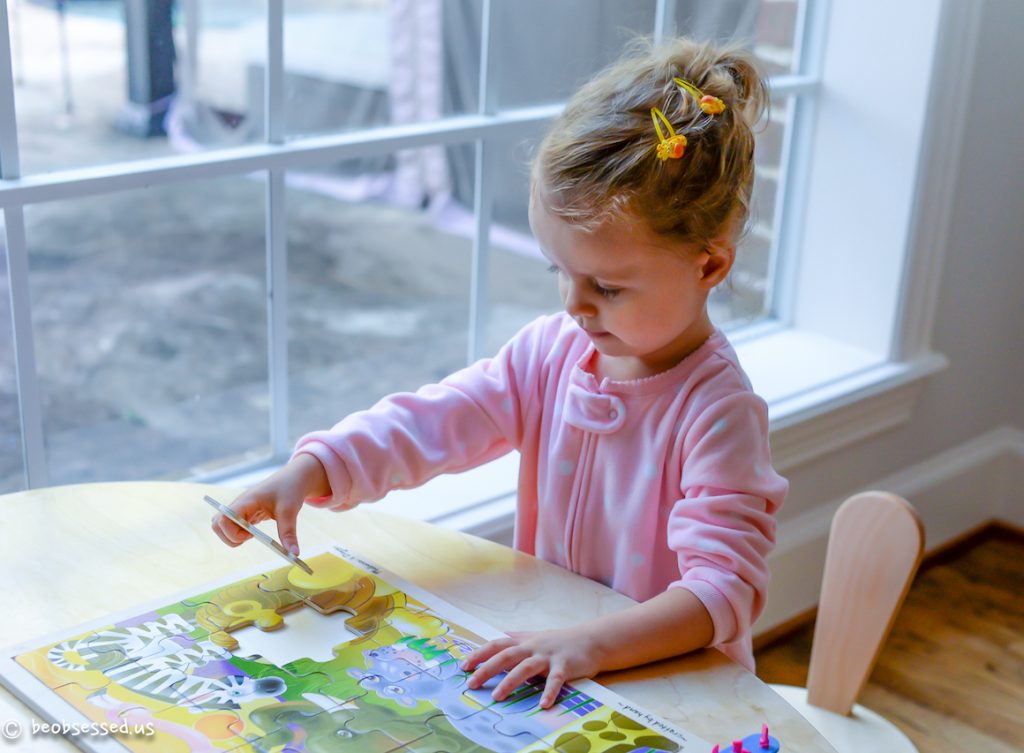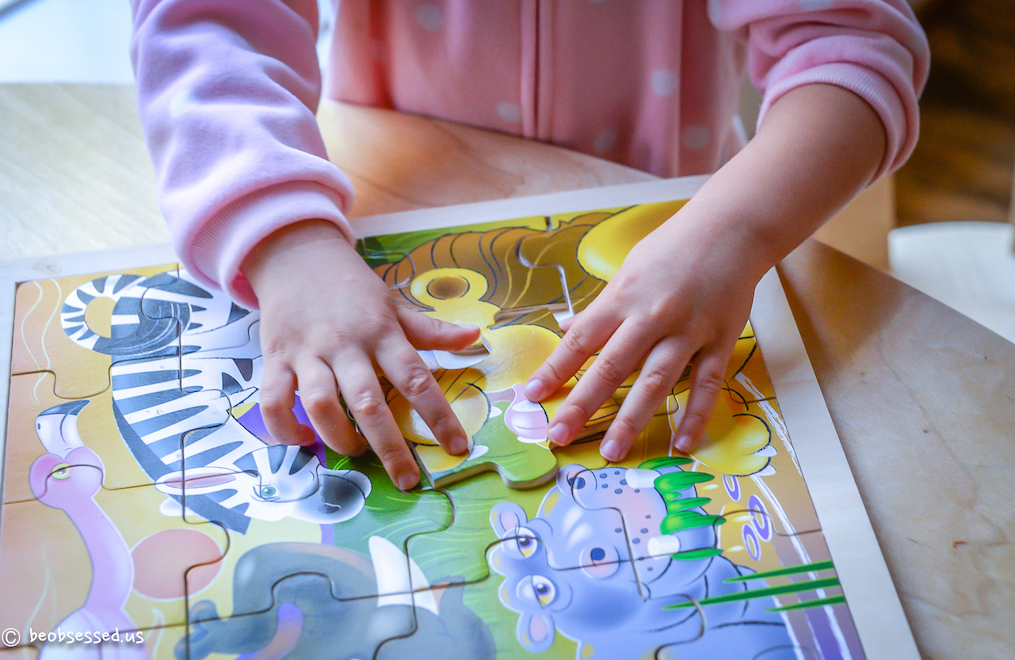 SaveSave