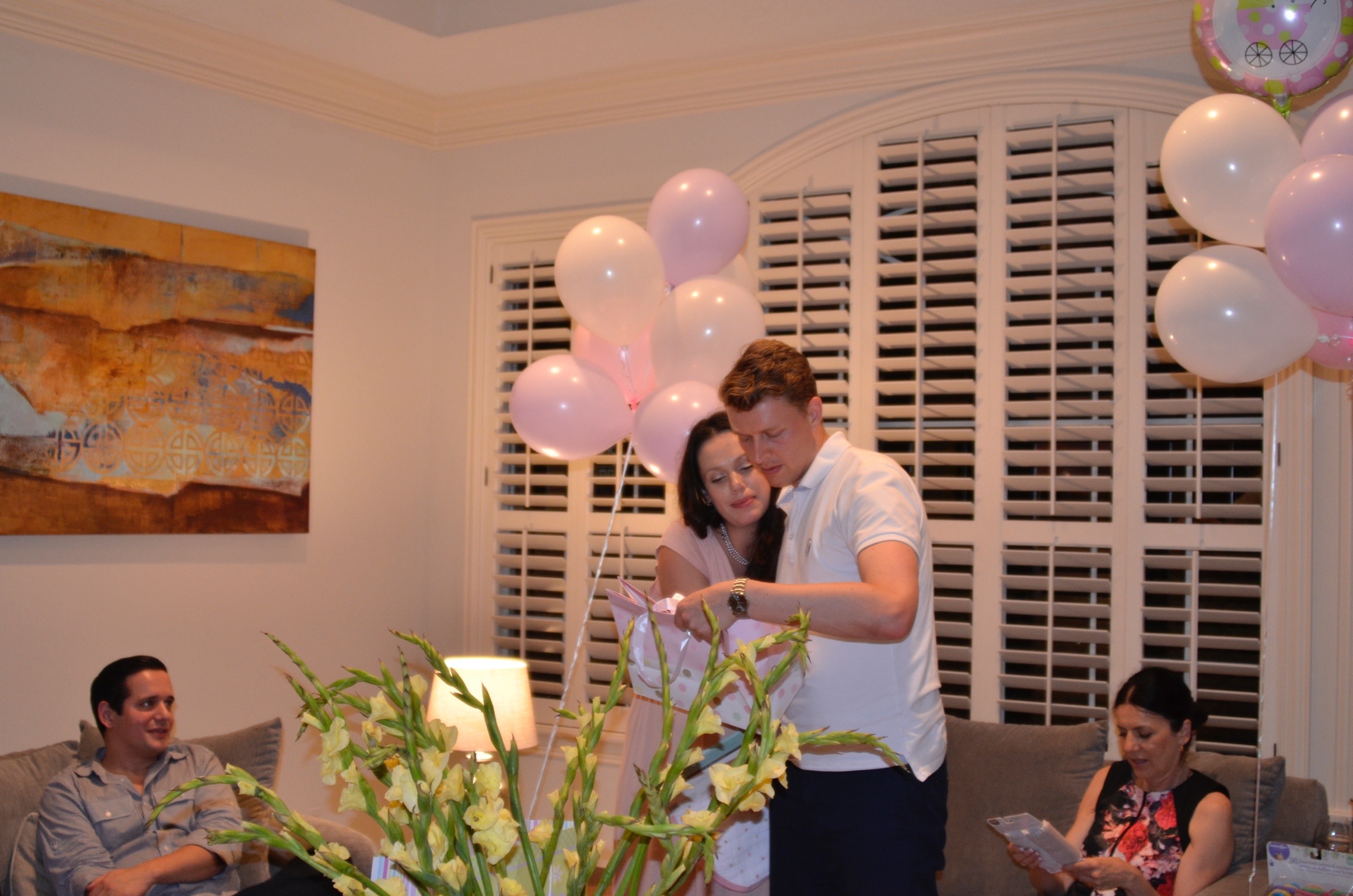 AWESOME IDEAS FOR BABY SHOWER
How to organize a super fun and creative Baby Shower? Me and my husband like to spend time with friends in an active way. In Europe, Baby Shower is not that popular as in US but it's becoming more popular every year. We wanted all guests to be involved in some cool activities so we prepared a few awesome animations 🙂
1) Boccie – I really don't understand why this game is still not that popular. It's so much fun and you need to build teams so everybody is getting to know each other during the game. We had trophies and awards prepared for the winning team!
2) Arts and crafts – we thought it will be best memento ever for our daughter when she grows up and gets handmade souvenirs from her own Baby Shower. Isn't it an amazing idea? I bought at an art store boxes, paints, stickers and other items to create something special for our little baby girl. You can admire all arts made by our friends on pictures 🙂
3) Jenga – this is always a great idea! Everybody loves Jenga! 🙂 We bought the giant version so it's even more fun and you can also build teams to play together.
4) Mummies game – we had one more fun game which made everybody laughing heartily 🙂 Our amazing guest were creating mummies on other person from toilet paper. That was hilarious! LOL
5) Good homemade food – that is always best option! Everybody loved it! I cooked my amazing Italian dish and super tasty tart with creamy sauce. For dessert we had lots of fruits and my famous polish jello which is something special here in US 😉
We had so much fun! There was also a time when we sat together and unpacked all presents for our baby. We chilled out, talked a lot and had lots of fun activities which kept all guests busy and everyone found something interesting for oneself. The party was well organized and everybody recalls it with pleasure 🙂
&
Jak zorganizować super fajne i zabawne Baby Shower, aby goście zapamiętali Waszą imprezę i wspominali ją później z rorzewnieniem? Poniżej znajdziecie kilka świetnych pomysłów, które wykorzystaliśmy podczas naszej imprezy.
Zarówno ja, jak i mój mąż lubimy spędzać ze znajomymi czas aktywnie. Baby Shower w Stanach, to jedno z większych rodzinnych wydarzeń. W Polsce dopiero staje się z roku na rok bardziej popularne, ale jak wiadomo wszystko co z zachodu adaptuje się w naszym kraju doskonale i już wśród znajomych i rodziny widzę, że zwyczaj ten jest co raz bardziej znany. Chcieliśmy aby goście spędzili czas w fajnym towarzystwie i zaangażowani byli w zabawne i wciągające ich aktywności 🙂
1) Bule – trudno mi zrozumieć, dlaczego ta super fajna gra nadal w Polsce nie jest zbyt popularna. Jest idealna dla każdego w każdym wieku. Gra się w zespołach i jest to idealna atrakcja na początek imprezy, ponieważ wszyscy mają okazję się poznać. Na ogół na Baby Shower zapraszani są zarówno znajomi, jak i rodzina, a Bule sprzyjają fajnej atmosferze i jest to świetna okazja do rozmów i zaadoptowania się nowych osób w towarzystwie.
2) DIY (Do It Yourself) – czyli inaczej artystyczne prace ręczne, bo tak dokładnie u nas było 🙂 Oczywiście damska część gości zdecydowanie chętniej zajęła się tym zadaniem. W lokalnym sklepie papierniczym kupiłam śliczne kartonowe pudełka w kształcie serca oraz bawełniane torby na zakupy, które można ręcznie malować. Do tego nabyłam mnóstwo farb, flamstrów, naklejek i innych kolorowych ciekawostek 🙂 Dziewczyny stworzyły fantastyczne i oryginalne projekty dla naszej małej Celisi, które to wszystkie mamy złożone w jednym miejscu i myślę, że jest to absolutnie najfajniejsza pamiątka dla maluszka, który z czasem będzie mógł podziwiać swoje prezenty, które zostaną z nim na całe życie. Prace możecie podziwiać na zdjęciach 🙂
3) Jenga – to jest zawsze strzał w 10-tkę! Wszyscy uwielbiają Jengę. Specjalnie na Baby Shower zamówiliśmy wersję XXL i był to najlepszy pomysł, bo wszyscy bez wyjątku bawili się przy niej doskonale!
4) Mumie – super zabawna gra, przy której wszyscy śmieją się do rozpuku 🙂 Pracujemy w parach. Jedna osoba stoi nieruchomo, a druga tworzy na niej projekt na najbardziej kreatywną mumię z papieru toaletowego. Dużo więcej chyba mówić nie muszę, bo gra jest prześmieszna i wszyscy się przy niej super bawią 😉
5) Pyszności – nie możemy oczywiście zapomnieć o wybornych przekąskach i innych delicjach. Podczas tak aktywnej imprezy wszyscy zajadają z przyjemnością. Na naszą imprezę przygotowałam super łatwe i smaczne muszle ze szpinakiem, ricottą i mięsem mielonym pod pierzynką z sosu pomidorowego z parmezanem (palce lizać!), tartę warzywną z mascarpone i sosem jogurtowym, sałatkę zieloną oraz galaretkę z owocami, która tutaj w Stanach robi furorę :-))
Nasze Baby Shower udało się fantastycznie. Było aktywnie, zabawnie, nie zabrakło czasu na rozmowy przy lampce wina lub wody 😉 oraz oczywiście rozpakowywanie prezentów dla maluszka w pełnym gronie. Impreza musiała być na tyle fajna, że wszyscy do dziś dnia wspominają ją przy każdej możliwej okazji, a to zapewne dzięki ciekawym atrakcjom, które zaserwowaliśmy naszym gościom 🙂