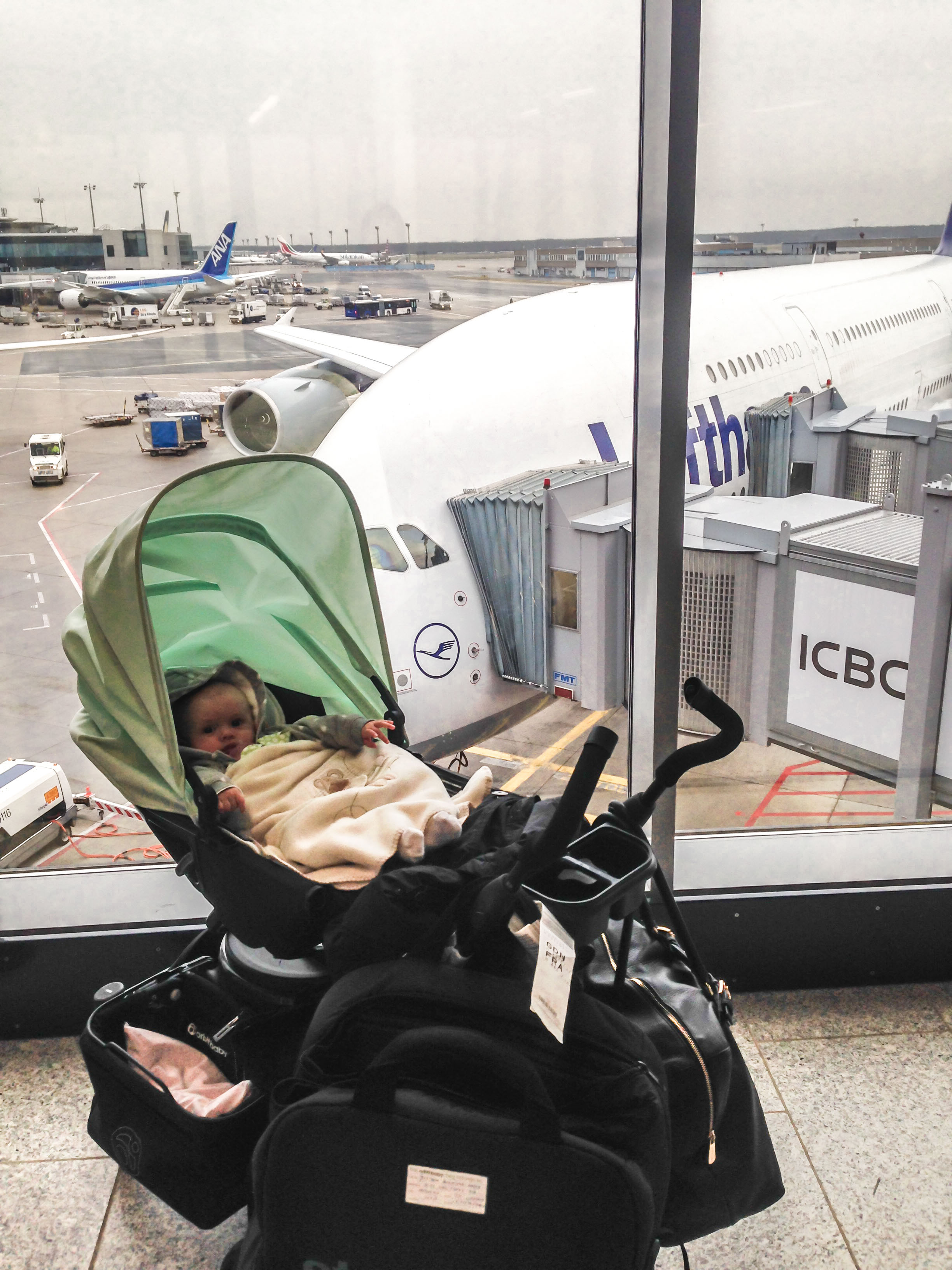 TRAVELING WITH BABY
Quite often I hear parents saying that maybe in a year or two, when a little one grows up, they will decide to go for vacations or some longer trip. Until I didn't have a child, I couldn't relate to it. Right now, having family spread all over the world, my knowledge in this subject is much more extensive. Below you will find a whole bunch of information that will be useful for you when planning any trip with a small child.
Our first intercontinental trip with our daughter was when she was less than four months. Now our sunshine is thirteen months old and she has already flown over the ocean four times and had several domestic flights. There were some surprises, new information for us and even little troubles. So that's what you need to know…
If you plan a trip to a different country/continent with your baby, you necessarily need:
• a statement from a doctor about the good health condition of your child
• Child medical history (if recently sick, what medicine did she or he had, is she or he allergic to anything, the recommendations from your doctor)
• a list of child immunization with specific names and dates of vaccination (they have never required it from us but a few of my friends were asked, so it's better to have it with you just in case)
• if your child has postponed vaccinations, a statement from your doctor explaining why
• child's passport if it is an intercontinental flight
• ID of your child, if it's a domestic flight
• copy of your child birth certificate
If you are traveling alone, particularly on international routes (one parent + child) you MUST bring with you written consent of the other parent to leave with the child out of the country! Why? Well …
In May this year, when I flew with Celina from Houston to Gdansk via Frankfurt, at the Frankfurt passport control, the immigration officer checked everything carefully, asked me a few questions, requested a return ticket and suddenly he demanded my husband's consent for my trip with my daughter. I was shocked of this request and as you can imagine I didn't have a letter from my husband with me. I must admit that I experienced a moment of horror when the officer suggested that he doesn't have any confirmation that I do not run away with the child from my husband… (!!) In the first few seconds I thought it was a monstrously stupid joke of him and I even laughed out loud but after a while I understood he wasn't joking… Anyways, I reacted naturally and quite firmly offered an immediate phone call to my husband and saying openly that it is a form of discrimination, because on what base does he infers such a suggestion to a woman he doesn't know at all. He refrained from further suspicions, returned our passports and let us go. You could say that everyone can write such a letter by himself but you don't want to mess with immigration officials, so remember to have the signed permission letter from the other parent.
What to take with you?
• simple stroller for the baby to move through the airport – we bought a small umbrella-type stroller for $15, which works on the go perfectly and we don't worry that it will get scratched or break down.
• protective stroller bag – if you're taking with you your "good" stroller which you use for every day, protective bag is a must if you care about the condition of your stroller,
IMPORTANT: Regardless of whether you take the stroller with you to the gate or you're checking it in, always keep it in the bag! Airlines are not responsible for any damages!
• diaper bag with:
– supply of diapers and wipes, because you never know whether there will be a delay and you don't want to get stuck at the airport with no diapers
– 3 clean bottles, so you don't have to wash it in water on the plane or at the airport too often (prefer to avoid rinsing bottles at any public places)
– 2-3 pacifiers, if your child is using them – it will be very useful when taking-off and landing (more about it you will read below)
– wet wipes safe for children to clean hands, face and other things babies are touching around (optional: antibacterial liquid or gel safe for children)
– disinfecting spray in case of cuts or scratches of the skin
– 1-2 blankets that will make your child trip more comfortable, preferably one thicker, the second muslin (it is usually quite cold on board)
– 3 convenient and easy to change clothes in case of spit up or getting dirty,
– 2-3 pairs of extra socks, because they always fall down and nobody knows when and where
– waterproof bibs with pocket, that any spit or leftovers will stay in it but not on our seat or on yourself
– favorite stuffed animal or toy which makes your baby feel happy and get him or her fall asleep easier
– changing pad which allows you to change baby on a clean sheet and also will let your baby to lay down on it for a while to stretch or play on it even at the airport
– and of course supply of food, water, milk – how much you can take with you, you will read below
What to not to take with you on the plane?
• nail clipper
• scissors, even those safe ones for the child
• loud squeeze and playing toys
• too many toys
• strong fragrance food
• cute clothes that you don't want your child waste quickly
Water, milk, baby food – the principle of transporting food and fluids
There is no record anywhere of how much exactly you can bring your own food and drink for your child. Take as much as you think your child would normally eat/drink and even half of that extra. It already happened to us to be stuck at an airport with Celina for 7h and in these situations you don't want to worry if you have enough food for your baby. If you're breastfeeding, this problem is solved automatically.
However, how does this look like in practice?
• formula – we have never had any problems at the airport, even if we had 2 large cans of formula in our hand luggage
• ready to drink milk in the bottle – not problem at all; you can take how much your baby needs
• bottled water – in US each bottle is checked separately in a special device which detects toxins and at once it is verified, they give it back to you without a word. However, in Europe they are much more strict about it and you cannot take too much – they usually don't have the device to check the liquid. In summary, don't take too much with you, but you are still allowed to take as much as your baby will need and some extra just in case.
What facilities are airlines offering when traveling with a baby?
• primarily cribs! many people don't know this, but for longer distances, usually over 6h, airlines offer hung on a wall crib for a baby in the front rows; to get the crib you need to make a reservation for your seat in a front row and a baby crib; some airlines offer it for free, in some you need to pay a fee, usually no more than $100 – child must not exceed 30lb and 33in (for ex. Lufthansa offers it for free)
• children under two years old travel for free – worth to use it!
Additional tips:
• if you travel a lot, make sure you have a miles card – earning points gives you a possibility to book a flight in much better price or to redeem points for business class
• traveling with a baby always demands more time – don't do anything last minute
• to avoid aching small ears, give your baby a bottle to swallow during takeoff and landing; the pacifier is an alternative
• do not take heavy items on board especially when you travel alone with a child
• take a comfortable baby carrier with you – it can help you while boarding and needing to hold a few things in your hands
• take baby nose droplets with you in case your baby has a mild runny nose
• do not travel with a sick child!
• when your child suddenly starts to cry intensely during the flight, most likely it's clogged ear which is new for the child; don't panic and just give him or her a drink; usually that works nicely – do not give Tylenol just because you think it will help (!) – it's an unnecessary medicine
To sum up traveling with a child is certainly more difficult than traveling alone, however, it is feasible and not as difficult as most people think. Do not postpone your holidays and dreams just because of the baby. Children are the part of our lives and they should explore life and the world with us from the beginning. If you start traveling with your baby early, every time will become easier. Have a safe trip! 🙂
If you have any experiences with traveling with a baby please leave a comment below so I can update my checklist for parents who plan the trip with their little one! 🙂 Thanks!