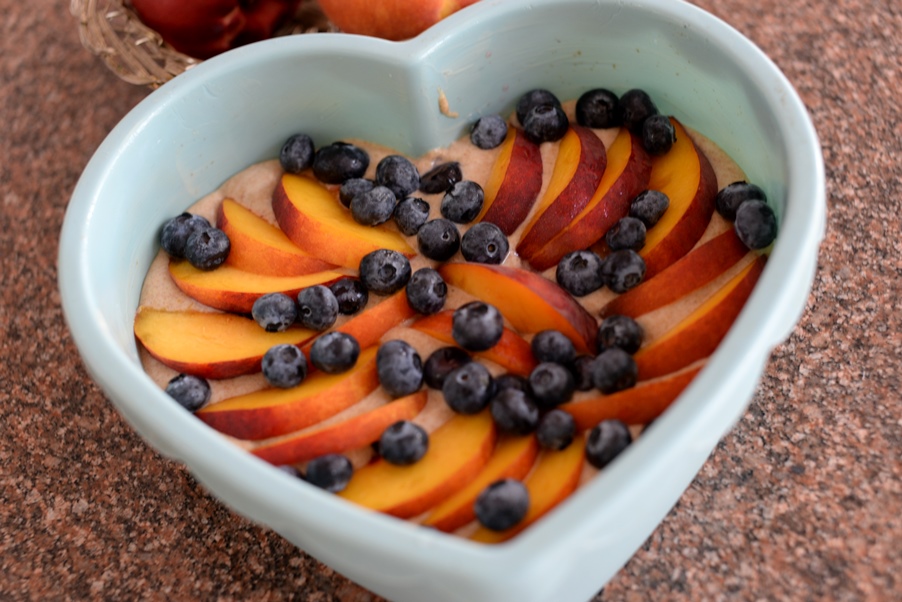 ORGANIC PEACH-BLUEBERRY CAKE
It's easy and delicious recipe for a summer cake with whole wheat flour, organic natural yogurt and no sugar. I don't use sugar at all. Instead I use xylitol. Xylitol looks and tastes like sugar, but has fewer calories and doesn't raise blood sugar levels. It can be processed from trees like birch, but it can also be made with an industrial process that transforms a plant fiber called xylan into xylitol. For people with diabetes, pre-diabetes, obesity or other metabolic problems, xylitol is an excellent alternative to sugar.
Ingredients:
• 1 and 1/2 cups organic whole wheat flour
• 1 teaspoon baking powder
• 1/2 teaspoon baking soda
• 1/2 stick organic softened butter
• 2/3 cup xylitol
• 2 organic eggs
• 1 teaspoon organic vanilla
• 2/3 cup organic natural whole yogurt
• 2 peaches, sliced into wedges
• 6 oz organic blueberries
• 1 teaspoon powdered sugar
Directions:
Step 1: Beat butter, sugar, and 2 eggs in a bowl until light in color and fluffy for 2-3 minutes on high speed.
Step 2: Add yogurt and vanilla and continue beating until very creamy for about 1 more minute.
Step 3: Keeping the mixer speed low and add flour, baking powder and soda. Mix until combined.
Step 4: Preheat oven to 350°F with rack in middle and grease the side and the bottom of the pan with butter.
Step 5: Transfer the cake batter to the baking pan. Top with sliced peaches, and scatter blueberries on top.
Step 6: Bake until cake turns golden for about 60 minutes.
Step 7: When the cake is done baking, let it cool and sprinkle some powdered sugar on top.
Bon Appetit! 🙂
&
Super smaczny i łatwy przepis na ciasto z mąki pełnoziarnistej, z dodatkiem jogurtu naturalnego i bez cukru. Zamiast cukru używam ksylitolu. Ksylitol wygląda i smakuje jak cukier, ale ma mniej kalorii i nie podnosi poziomu cukru we krwi. Do Was jednak należy decyzja czy użyjecie cukru, ksylitolu, czy np. stewii. Ciasto jest tak smaczne, że w naszym domu rozeszło się w ciągu jednego wieczora 🙂 W weekend zrobię zatem kolejne!
Składniki:
• 350gr mąki pełnoziarnistej ekologicznej
• 1 mała łyżeczka proszku do pieczenia
• 1/2 małej łyżeczki sody oczyszczonej
• 150gr miękkiego masła
• 150gr ksylitolu
• 2 jajka
• 1 mała łyżeczka ekstraktu z wanilii
• 150gr naturalnego jogurtu o pełnej zawartości tłuszczu
• 2 piękne jędrne brzoskwinie
• 100gr borówek amerykańskich lub jagód
• 1 mała łyżeczka cukru pudru do posypania
Sposób przyrządzenia:
Krok 1: Ubić masło z jajkami i ksylitolem na puszystą masę, ok.2-3 min.
Krok 2: Dodać do ubitej masy jogurt i ekstrakt wanilii i miksować jeszcze 1 min.
Krok 3: Zmniejszyć prędkość miksera. Dodawać powoli mąkę, proszek do pieczenia i sodę oczyszczoną. Miksuj do uzyskania jednolitej masy.
Krok 4: Rozgrzej piekarnik do 180°C. Przełóż masę do formy nasmarowanej masłem.
Krok 5: Pokrój brzoskwinie w cienkie plastry i obłóż nimi ciasto. Całość posyp borówkami.
Krok 6: Piecz około 60 minut aż ciasto nabierze pięknego złotego koloru.
Krok 7: Po wyjęciu z piekarnika ostudź, posyp cukrem pudrem, a następnie zajadaj 🙂
Smacznego!