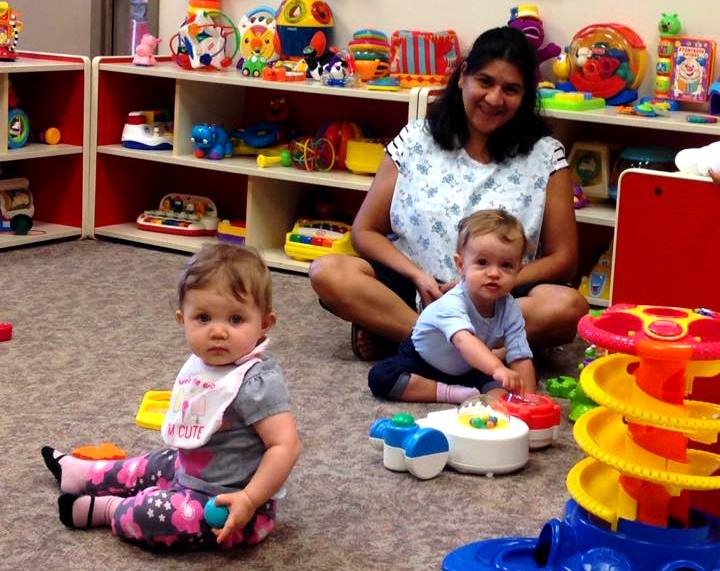 IS THERE A RIGHT TIME FOR CHILDCARE?
The first day of preschool is behind us. I'm sure that for every mother it is a bit scary and an exciting experience. Someone might ask why are we sending our child to kindergarten, when I'm not working and I'm a stay home mom right now? I think the only people who can really understand the situation are those who also live very far away from their families and close friends.
In the US sending children to the early education program is much more common than in my country. Moms are allowed to take 6 months of maternity with 100% salary or 12 months with 80%. I know that kindergarten is not a punishment or the end of the world for a child. Unfortunately, many parents in Poland think this way. A child who attends an early childhood program develops social skills faster even when staying only for a few hours during the week with other children in a different environment, if possible exposed to foreign languages.
Since early beginning our daughter loved to watch other children. When she turned one we did extensive research for daycare and found through references a fantastic place literally 5 minutes by car from our house. It's very impressive that groups for infants are maximum of six children and two babysitters. Celina's group has only four children but still have two babysitters. I watched today what do children do during their stay in kindergarten and I really am astounded and happy that the preschool teachers really do their job with passion. Toddler group is usually a group of twelve with three babysitters. Children have a playground and a full range of artistic works throughout the day. Of course there is also the snooze time, and common meals. I'm sure that for experienced parents there's nothing extraordinary in it but for me the first time mom, it is really very impressive 🙂
I'm so happy and grateful I have this opportunity to be with my child at home and not have to stress about going back to work. However, I realize that for the good of our child and her development, it is important that she will not only spend time in my companion. Besides, I'm an active woman and I cannot imagine not to work for the rest of my life. I love my profession and I can confidently say that I am passionate about it. I plan to return to work, and therefore for our little one it means she needs to stay with nanny or in preschool. Initially we only considered a nanny. This was due to our fear and stories about how often and easy children got sick whenever they start kindergarten. Of course, for us that was the first day today so I'm not able to determine how often children get sick while in kindergarden compared to the time spent at home with a babysitter. Celina is rather strong little woman and so far holding up tight and not get sick too often. We do believe it will stay this way. However, I am convinced that a child who is used to spending all days long with mommy and suddenly mommy gets back to work for 8 to 10 hours a day it's going to be shocking for such a baby who doesn't understand why anything changed. So now it's adjusting time for our little one.
Parents who still have the first day of kindergarden ahead of them, I can confidently say that it is better than we assume it will be. As soon as Celina got to preschool she immediately took care of some toys and went to interact with other children. She even didn't notice that I left 🙂 I am delighted that this day has passed so positively. When I picked her up after 3 hours she was sleepy but looked very happy. Right after we came back home, she drunk the whole bottle of milk and cuddling her favorite giraffe immediately fell asleep.
I'm sitting on the stairs at home now, having my coffee and writing this post. With the positive energy after this successful first day I'm getting ready to cook delicious soup for tonight. I wish all of you wonderful experiences with your babies starting kindergarten and a new chapter of their young lives 🙂
 &
Pierwszy dzień przedszkolka za nami. Jestem przekonana, że dla każdej mamy to ogromne przeżycie. Co niektórzy mogliby zapytać dlaczego posyłamy dziecko do przedszkola, skoro ja nie pracuję i jestem z dzieckiem w domu? Myślę, że tylko osoby, które są w takiej sytuacji jak my i też są bardzo daleko od rodziny nie mając nikogo w pobliżu, mogą to dobrze zrozumieć.
Dla dziecka pójście do przedszkola, to nie kara ani koniec świata. Niestety wielu rodziców tak uważa i głośno o tym mówi. Dziecko od maleńkości rozwija swoje umiejętności społeczne i przebywając chociaż kilka godzin w ciągu tygodnia z innymi dziećmi, w innym środowisku, najlepiej jeszcze w towarzystwie nowego języka, robi niesamowite postępy w rozwoju.
Nasza córeczka od pierwszych miesięcy swojego życia uwielbiała przyglądać się innym dzieciom. Tak się składa, że nasi tutejsi najbliżsi znajomi nie posiadają dzieci albo mają je już w wieku szkolnym. Nie mamy zatem możliwości zapewnienia Celince kilkugodzinnych zabaw w towarzystwie szkrabów naszych przyjaciół. Zrobiliśmy zatem bardzo rozległy research dotyczący opieki dziennej i znaleźliśmy fantastyczne miejsce dosłownie 5 minut autem od naszego domu. Tutaj bardzo popularne są przedszkola przy kościołach. Nasze również do nich należy. Szczególnie wyróżniają się tym, iż grupy najmłodszych bączków są bardzo niewielkie – maksymalnie sześć osób i do tego dwie panie opiekunki. W grupie Celinki jest tylko czworo dzieci i dwie panie. Podglądałam sobie dzisiaj, co dzieci robią w trakcie takiego pobytu w przedszkolu i naprawdę jestem wielce zdumiona i przeszczęśliwa jak niektórzy potrafią wykonywać swoją pracę z pasją. Grupy starszaków to już grupy dwunastoosobowe z trzema opiekunkami. Dzieci mają pełen zakres zabaw i prac artystycznych przez cały dzień. Oczywiście jest też czas drzemki oraz wspólnych posiłków. Pewnie doświadczeni rodzice powiedzą, że nie ma w tym nic nadzwyczajnego ale na mnie matce początkującej, robi to naprawdę ogromne wrażenie 🙂
Jestem szczęśliwa i wdzięczna, że mam taką możliwość przebywania z moim dzieckiem w domu i nie musieć stresować się powrotem do pracy. Jednakże zdaję sobie sprawę, że dla dobra dziecka i jego rozwoju, ważne jest aby nie przybywało tylko w moim towarzystwie całymi dniami. Poza tym, ja kobieta czynu, nie wyobrażam sobie nie pracować już do końca życia. Uwielbiam swój zawód i mogę śmiało powiedzieć, że jestem jego pasjonatką. Mam zatem w planach powrót do pracy, a zatem dla naszej kruszynki oznacza to, że będzie musiała zostać z nianią lub w przedszkolu. Początkowo obstawialiśmy tylko i wyłącznie nianię. Wiązało się to z naszym strachem i zasłyszanymi historiami o tym jak bardzo dzieci chorują kiedy tylko pójdą do przedszkola. Oczywiście za nami dopiero pierwszy dzień dlatego nie jestem w stanie tego ocenić jak często dzieci chorują będąc w przedszkolu w porównaniu z przebywaniem w domu z opiekunką. Nasza mała to raczej silna kobietka i do tej pory trzyma się twardo i nie choruje. Liczymy na to, że tak zostanie. Jestem jednak przekonana, że dziecko które z dnia na dzień zostałoby przez 8 do 10 godzin bez mamy i taty, czy to w domu z nianią, czy w przedszkolu, przeżyłoby po prostu szok. Przechodzimy teraz zatem czas adaptacji – 3 razy w tygodniu po 3 godziny.
Rodzicom, przed którymi dopiero ten pierwszy dzień przedszkola się święci, mogę śmiało powiedzieć, że jest lepiej niż myślimy, że będzie. Celinka po przyjściu do przedszkola od razu zajęła się zabawkami i weszła w interakcje z pozostałymi dziećmi. Nawet nie zauważyła kiedy wyszłam 😀 Ogromnie cieszę się, że ten dzień minął jej tak pozytywnie. Kiedy ją odebrałam po 3 godzinach, była już śpiąca ale widać, że zadowolona. Po powrocie do domku, dostała butelkę z mlekiem, które wypiła w oka mgnieniu i tuląc swoją ukochaną żyrafkę od razu zasnęła.
Gdybyście chcieli wiedzieć co robiła matka w wolnym czasie… to zaraz po zawiezieniu Celinki do przedszkola padła mi bateria w aucie i tak spędziłam sobie piękne 2 godziny na parkingu w oczekiwaniu na pomoc drogową i usuwaniu usterki haha 😀 Pełen relaks! 😉
Siedzę teraz na schodach w domu popijając kawę i pisząc ten post. Zmykam zatem i zabieram się za gotowanie pysznej zupy, a wam życzę dużo pozytywnej energii i samych wspaniałych przedszkolnych doświadczeń 🙂