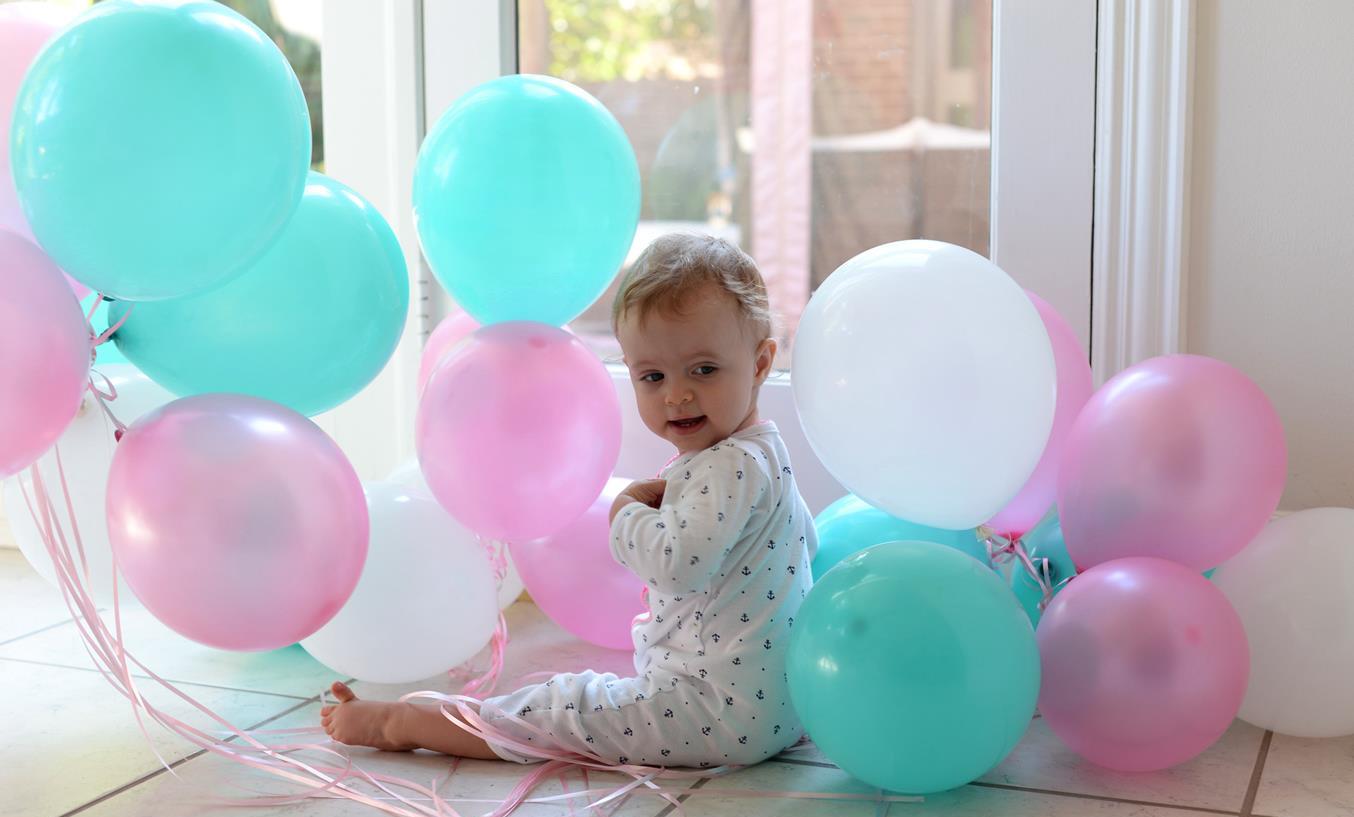 HOW TO ORGANIZE KID'S BIRTHDAY PARTY – Planning, #1
Organizing has always been my strong skill. I do like to have everything properly planned and prepared on time. I definitely don't like chaos and doing anything at the last minute. For me it's unnecessary stress and therefore I try to avoid it.
During the last two years of living in the US,  I gained  a title of the parties' queen by my friends 😀 not because I like to party but I do like to properly organize home parties. I noticed that here in US most people decide to have a party out of the house. If the party is at home, then they usually have ready to eat food like pizzas, order ready sandwiches or veggies with dips from a grocery store. For sure it's easy and quick but that's not a point in my opinion. I used to always prepare food on my own and I promise you I'm not exhausted after managing this kind of event. The key is to be well organized.
Our daughter just turned one and on this occasion we organized her birthday party for twenty people. Therefore, I want to show you step by step how to get on with the organization of birthday party at home. I have created for you a series of birthday posts. It's impossible to describe everything in one 🙂 Text and information would have been too much 🙂
Today we start with party planning.
How to start??
I know that for some of you organizing party at home is a nightmare. I want to show you how to do it without frustration and give you lots of tips on how and what to do. Those infos you can implement on birthday parties in almost every kid's age. The only thing is, that the older the child is, the more creative activities you need to organize 🙂
First planning…
Day and time – you need to consider whether you want to invite your guests only for "coffee & cake" or you plan a full frame party with snacks and hot dishes. We set up our party for 3 pm so everybody was happy to have a nice dinner meal as well as fruits, salads and sweets. We'll talk about it more in birthday post vol.4.
The theme – How to choose the theme for your party, where to search for inspiration. About colors, accessories and ornaments beautifying your party you will read in a birthday post vol. 2.
Invitations – You need to notify in advance your lovely guests about the upcoming event. How to create invitations, what tools to use, how to design and when to send. All details you fill find in a birthday post vol. 3.
Menu – Good food is always a great addition to every party. What to prepare, what should you order and what should you do on your own. And of course the main attraction – Birthday Cake! Order or make? I'll give you all answers in birthday post vol.4.
Birthday attractions – There is nothing worse than bored children at the birthday party. How to fill entire time with awesome activities for younger and older kids you can read in my birthday post vol.5.
Organizing a really cool party at home is a little challenge, that's why in next four posts I want to share with you my knowledge and own experiences. I hope you will love it! :*
&
Nie da się ukryć, ze dobra organizacja zawsze była moją mocną stroną. Lubie mieć wszystko odpowiednio zaplanowane, przygotowane i na czas. Zdecydowanie nie lubię chaosu i robienia wszystkiego na ostatnią chwilę. Dla mnie to zbędny stres i wolę go unikać.
Mieszkając w Stanach 2 lata już zdobyłam tytuł mistrzyni organizacji przyjęć 😉 Tak nazwali mnie oczywiście znajomi. Głównie z tego powodu, iż nie są oni w ogóle przyzwyczajeni do samodzielnej organizacji imprez w domu. Decydują się na ogół na restaurację lub inne miejsce, a w najlepszym przypadku, zamawiają catering. U mnie jest inaczej, bo wszystko robię i sama i oczywiście w domu. Nie jest to dla mnie ani meczące, ani trudne i chcę również Wam pokazać jak w lekki i przyjemny sposób zorganizować "kinderbal" we własnym domu.
Nasza córeczka właśnie skończyła roczek i zorganizowaliśmy z tej okazji przyjecie na 20 osób. W związku z tym, chcę Wam pokazać jak krok po kroku zabrać się za taką organizację. Stworzyłam dla Was serię postów urodzinowych, gdyż nie da się opisać wszystkiego w jednym. Tekstu i informacji byłoby zdecydowanie za dużo 🙂
Dzisiaj zaczniemy od ZAPLANOWANIA PRZYJĘCIA.
Od czego zacząć??
Wiem, że wiele osób przeraża organizacja przyjęcia w domu. Sami zorganizowaliśmy chrzciny naszej córki w restauracji i było to nie ukrywam wybawienie. Jednakże są okoliczności, które warto zorganizować w domu jak właśnie np. roczek dziecka. Nie będę się w tej serii postów odnosić tylko i wyłącznie do roczku, gdyż sama organizacja wygląda podobnie dla dziecka w wieku 2, 5 czy 7 lat… Im jednak dziecko starsze, tym należy być bardziej kreatywnym w kwestii atrakcji urodzinowych 🙂 Znajdziecie w tej serii postów sporo pomysłów, które możecie wykorzystać dla dzieci w każdym wieku!
Wpierw jednak plan…
Wybór terminu – najlepiej oczywiście weekend. Jeśli ma być to impreza za dnia, należy się zastanowić, czy goście mają przybyć tylko na "tort i kawę", czyli po obiedzie, a może na imprezę w pełni, z przekąskami i gorącymi daniami. My zaprosiliśmy naszych gości na godz.15. Była to pora przedobiadowa i każdy miał już nieco miejsca w żołądku, dlatego zdecydowaliśmy się na wersje pełną, czyli obiadowo-deserową.
Motyw przewodni – jak go wybrać, gdzie szukać, czym się inspirować. Tutaj również o kolorach, dodatkach i ozdobach upiększających nasze przyjecie. O tym szczegółowo napiszę w poście urodzinowym nr 2.
Zaproszenia – odpowiednio wcześniej należy powiadomić naszych uroczych gości o nadchodzącym wydarzeniu. Jak stworzyć zaproszenia, jakiego narzędzia użyć, jak zaprojektować i kiedy wysłać. O tym szczegółowo w poście urodzinowym nr 3.
Zaplanowanie menu – co przygotować na ciepło, co na zimno, jakie przekąski. Co zamówić lub kupić gotowe, a co przygotować samemu. No i oczywiście gwoźdź programu – Tort Urodzinowy. Jaki wybrać, jak zaprojektować, a może zrobić samemu? O tym wszystkim w poście urodzinowym nr 4.
Atrakcje urodzinowe – nie ma nic gorszego niż nuda na przyjęciach dla dzieci. O tym co fajnego można zorganizować dzieciom zarówno młodszym, jak i starszym, aby miały wypełniony czas w trakcie całej imprezy przeczytacie w poście urodzinowym nr 5.
Organizacja przyjęcia, to rzeczywiście mini wyzwanie, dlatego w kolejnych czterech postach urodzinowych, podzielę się z Wami moją wiedzą i własnymi doświadczeniami. Do usłyszenia :*