ORGANIZING BIRTHDAY PARTY – INVITATIONS, #3
If you want t
o avoid

disappointment

that

some

important

guests

will not be able

to join

your

party,

it's good to

send an invitation

3-4

weeks

ahead but minimum

2

weeks in advance.

In these times,

when

most of us are surrounded by

phones and

tablets

, the best idea is

to send

an online invitation

. There are plenty of s

ites offering

such services

and

a large part

of

them are completely free

.

These services

generally

offer the ability to

check the status of

sent

invitations,

or

see

if an invitation

:

– was sent,
– was delivered,
– was opened,
– was accepted or declined.
These services also give an opportunity to create a forum for invited guests as well as the ability to send us a private message. In other words, the online invitation's system is not just an invitation but the way of communication among the organizer and invited people.
This type of invitation can be used for any occasion. We use it all the time for a baby shower, each birthday party in the family, Halloween, etc. Below you can see our invitation for our daughter's first birthday party. I used a collage invitation by adding four pictures. Typically I make animated invitations, but this time I decided to do it differently. 
&
Aby uniknąć rozczarowanie, że jakiś ważny dla nas gość nie będzie mógł w danym terminie przybyć na nasze przyjęcie, dobrze jest wysłać zaproszenie na 3-4 tygodnie przed wydarzeniem. Pamiętajmy też, że z czystej przyzwoitości wypada wysłać zaproszenie z min. 2 tygodniowym wyprzedzeniem.
W obecnych czasach, kiedy większość z nas żyje z telefonami i tabletami w ręku, najlepiej wysłać zaproszenie online. Stron oferujących takie usługi jest mnóstwo i spora cześć z nich jest darmowa. Serwisy te na ogół oferują możliwość sprawdzenia statusu wysłanego zaproszenia, czyli widzimy czy zaproszenie:
– zostało wysłane,
– czy dotarło do zaproszonego gościa,
– czy zostało przez naszego gościa odebrane,
– oraz czy nasz gość potwierdził swoją obecność czy też nie.
Serwisy te często umożliwiają stworzenie forum dyskusyjnego dla zaproszonych gości, jak również możliwość wysłania do nas prywatnej wiadomości. Inaczej mówiąc system zaproszeń online, to nie tylko samo zaproszenie ale sposób komunikacji pomiędzy organizatorem, a osobami zaproszonymi.
Tego typu zaproszenia możecie wykorzystać na każdą okazję. My stosujemy je cały czas. Na Baby Shower, urodziny każdego członka rodziny, imprezę Halloween'ową, itp.
Poniżej możecie zobaczyć nasze zaproszenie na pierwsze urodziny Celinki. Wykorzystałam zaproszenie kolażowe dodając cztery zdjęcia. Zazwyczaj wszelkie zaproszenia tworzę animowane, zatem tym razem postawiłam na naturę 🙂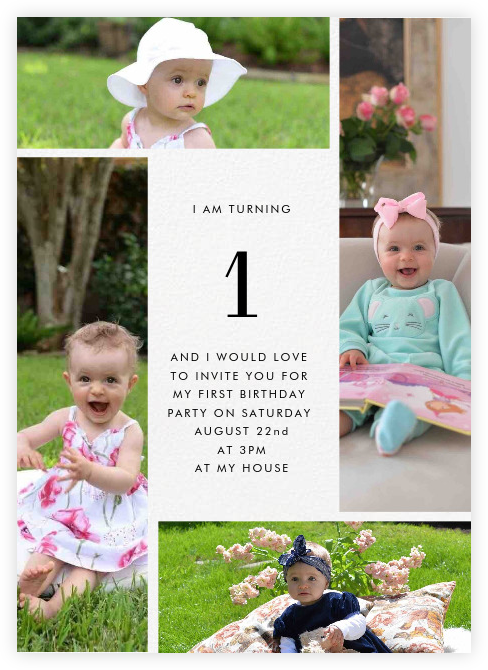 I personally use this website www.paperlesspost.com
I love it! It's super simple to use, has a great templates of invitations and online cards.  If you need to, you can order the printed version as well. I highly recommend it.
Other websites which work great are:
www.evite.com
www.tinyprints.com
www.shutterfly.com
&
Osobiście używam strony www.paperlesspost.com
Uwielbiam ją! Jest super łatwa, wręcz intuicyjna w obsłudze, posiada piękne wzory zaproszeń i kartek okazjonalnych online oraz posiada wszystkie funkcje, o których pisałam powyżej. Bardzo polecam.
Inne strony z jakich możecie skorzystać zobaczcie poniżej:
Zagraniczne strony:
www.evite.com
www.tinyprints.com
www.shutterfly.com
Polskie strony:
www.smartinvite.pl
www.inwitacje.pl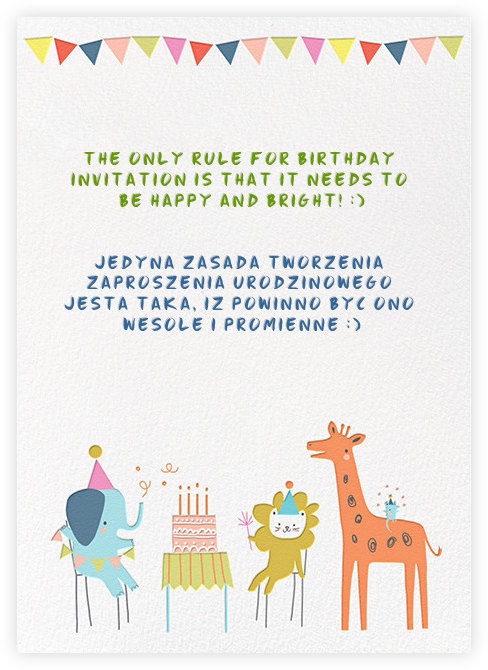 We cannot forget to say thank you for joining our party as well as thank you for all the presents we got. You can send a simple thank you via email or text or prepare ready notes for your party and hand it personally in the end of your event. However you can also use online service and send a thank you card to all your guests the same way as you send an invitation. I usually use the website but this time I sent a note individually to every guest.  Below you can see our thank you note for joining our Baby Shower last year. It's created via Paperless.
Nie możemy również zapomnieć o podziękowaniach za uczestnictwo w naszym przyjęciu oraz prezenty, które otrzymaliśmy od gości. Takie podziękowanie możecie wysłać indywidualnie do każdego gościa mailem czy sms-em, możecie przygotować na imprezę karteczki z podziękowaniami i wręczyć je każdemu przy wyjściu lub skorzystać znów z narzędzia online i wysłać kartkę z podziękowaniem w motywie nawiązującym do całości twojego przyjęcia.
Ja wybieram zawsze opcje nr 3 i korzystam z tej samej strony, na której tworzę zaproszenia. Poniżej możecie zobaczyć nasze podziękowanie za przybycie na nasz Baby Shower.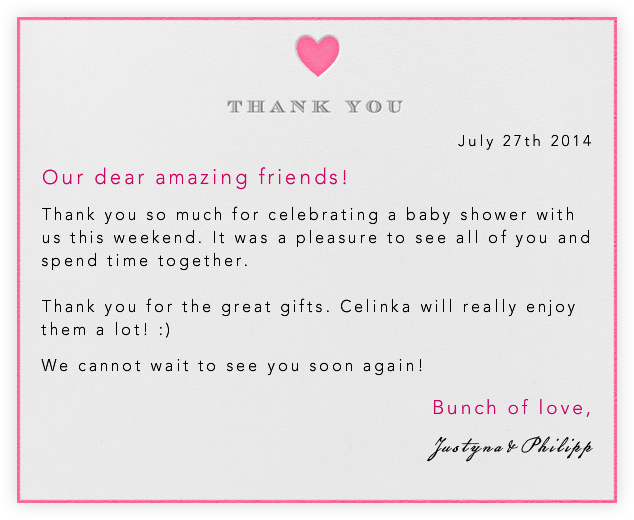 If you have any more questions about this birthday organization part, I'll be more than happy to help you 🙂
To tyle o zaproszeniach. Jeśli macie jakieś dodatkowe pytania, chętnie na nie odpowiem 🙂