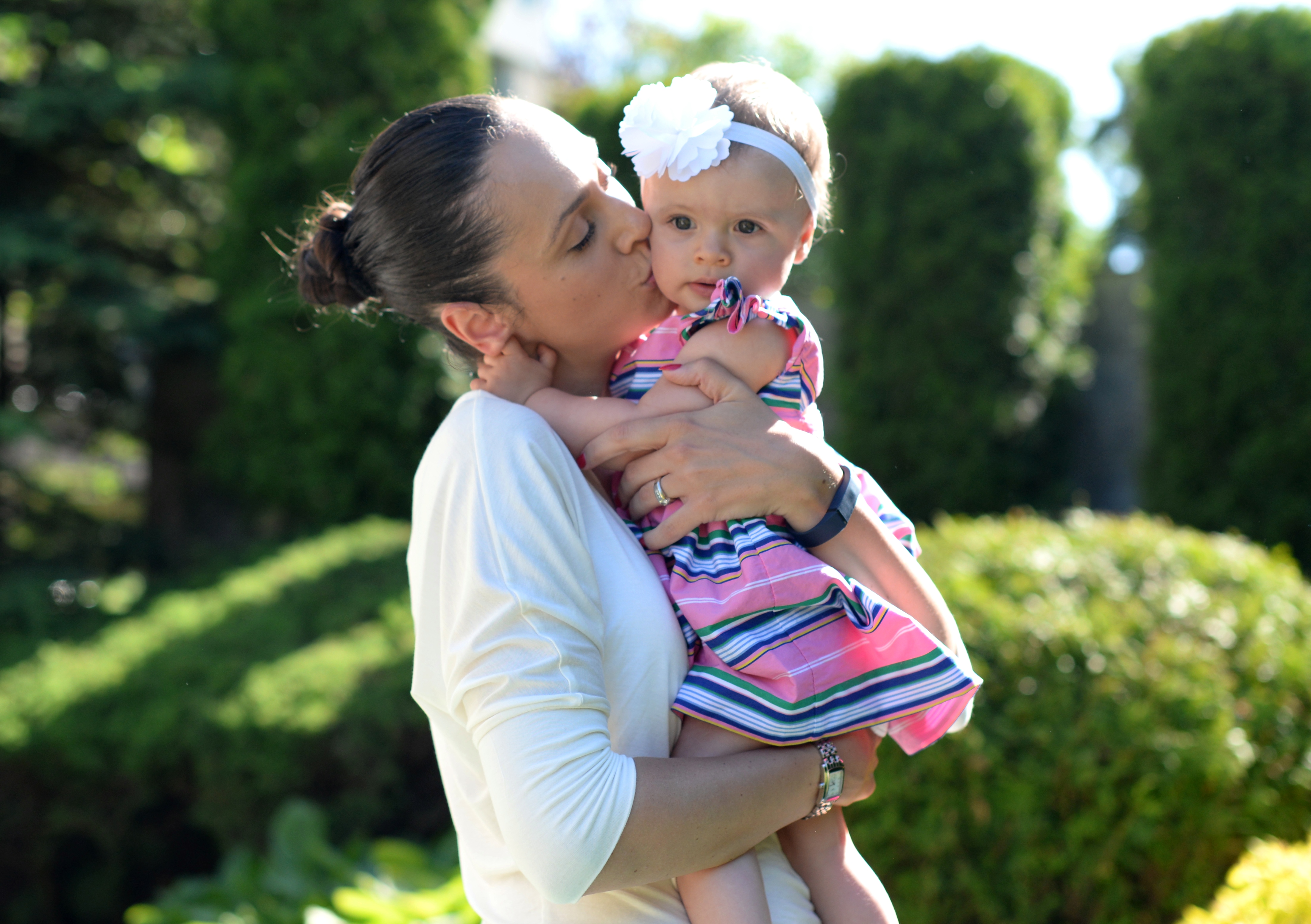 ARE YOU IN A MOOD FOR MOTHERHOOD?
I was never crazy about having kids and being a mom. I knew it will come one day but it was not my main goal in my life before I met my husband. I was focused for many years on my education and career. I was working like crazy. Right after we moved to the US first thing on my mind was to find an awesome job here. But… my dear husband motivated me to take a break for a while and it was a fantastic idea! That was the best time to focus on extending the family 🙂 Our baby girl was born a year ago and she turns one this weekend. It's unbelievable how fast time flies by. Our life has completely changed and it is the most beautiful change we could ever dreamed about! I used to think that my career path, chasing new positions is this what will make me feel fulfilled. I changed my mind. I haven't been working for almost two years now and I can't say I missed anything… I can only say I became a fully satisfied and happy person 🙂 I didn't close my door to develop myself and my career but the first year of your child life it's something super special. Some people say that kids don't remember their first years of life so they don't care who is spending time with them but that's untrue in my opinion. This little human being feels, observes, understands and watches you all the time. There are moments when I feel tired, when I feel like taking "a day off" but in the end of the day all those little fatigues don't matter at all. Having an opportunity to spend the first year with your baby is the most exciting and unique experience. If somebody would ask me what is the best thing in being a mother I would honestly say… everything! But… one of the biggest thing is that it's so rewarding to have a purpose other than yourself. Nevertheless, you are the only person who can answer the question if you are in mood for a motherhood. The only thing I can say – being a mom is priceless 🙂
Posiadanie dziecka nigdy nie było moim celem samym w sobie. Wiedziałam, że pewnego dnia chcę zostać mamą ale ten moment zawsze był gdzieś w oddali. Był ale szczerze jakby go nie było. Na pierwszym miejscu zawsze stawiałam edukację i karierę. Pracowałam jak szalona. Często od świtu do nocy. Dopiero kiedy poznałam mojego męża wiedziałam, że zacumowałam we właściwym porcie. To jednak nie przystopowało mojej ideologii i nawet tuż po przeprowadzce do Stanów moje myśli krążyły wokół znalezienia nowej super pracy. Mąż przemówił jednak do mnie i zmotywował do "wzięcia nieco na luz". Tym sposobem z życia w Polsce pełnego gwaru, ogromu ludzi dookoła i "gadania" non stop (prowadziłam firmę szkoleniową i sama byłam trenerem), nagle zamilkłam i słyszałam tylko ciszę w pustym domu, daleko od kraju, rodziny i znajomych dookoła z mężem w pracy. Cieszyć się czy smucić…? Postanowiłam czas ten spożytkować najlepiej jak potrafię. To co robiłam w między czasie w tym momencie nie ma większego znaczenia, biorąc pod uwagę sukces jaki udało nam się wspólnie z mężem osiągnąć, a mianowicie nasza córka. To niesamowite, ale w najbliższy weekend kończy rok i teraz zdaję sobie sprawę jak bardzo myślenie kobiety zmienia się, kiedy nagle pojawia się ten jakże powszechnie znany "instynkt macierzyński". Faktem jest, że "to" naprawdę działa 😀 Mój mózg zaczął pracować na kompletnie innych falach, choć z pewnością nie głupszych 😉 Nie lubię tego hasła "macierzyństwo jest przereklamowane". Spotkałam się z nim już kilkukrotnie i dla mnie ma wydźwięk negatywny. Zmieniłabym to na "macierzyństwo nie jest dla każdego", bo nie jest. Osobiście znam kobiety, które nie zdecydowały się na posiadanie dzieci. Nie chcą ich mieć, ponieważ to zaburzyłoby ich styl życia, który prowadzą od wielu lat – poukładany, skupiony na sobie, mają swój spokój, którego nie zaburza ktoś inny, oprócz ewentualnie partnera. Czy można powiedzieć, że są nieszczęśliwe? Zdecydowanie nie. Czy coś tracą? Na pewno tak, ale nie nam to oceniać czy to wybór właściwy czy nie. Każdy musi znaleźć swoją receptę na szczęście, a z pewnością lek nie jest uniwersalny… Uwielbiam być aktywna i robić wiele rzeczy dla siebie, swojego rozwoju i zaspokojenia własnych potrzeb, dlatego biorę sobie tyle rzeczy na głowę, o których mogliście przeczytać w moim poście "The organized mama". Jednak ten rok spędzony w domu z dzieckiem był absolutnie niezwykły! Jestem wdzięczna, że mogłam całą swoją uwagę poświęcić tylko tej małej kruszynce, która w tak wspaniały sposób wywróciła nasz świat do góry nogami 🙂
Gdyby

ktoś

mnie zapytał

, co

jest tą najbardziej niezwykłą rzeczą

w byciu

mamą,

odpowiedziałabym, że

… wszystko

!

J

ednak jedną z najpiękniejszych rzeczy 

jes

t uczucie

, iż

posiada się cel

inny niż

skupienie na

samym sobie

.

Niemniej jednak,

tylko my sami

możemy odpowiedzieć sobie na pytanie

, czy

jesteśmy w

"

nastroju do

macierzyństwa"

. Jedyne, co

mogę dopowiedzieć

, to to, że

macierzyństwa

nie da się porównać do niczego innego 🙂 Jest po prostu bezcenne.