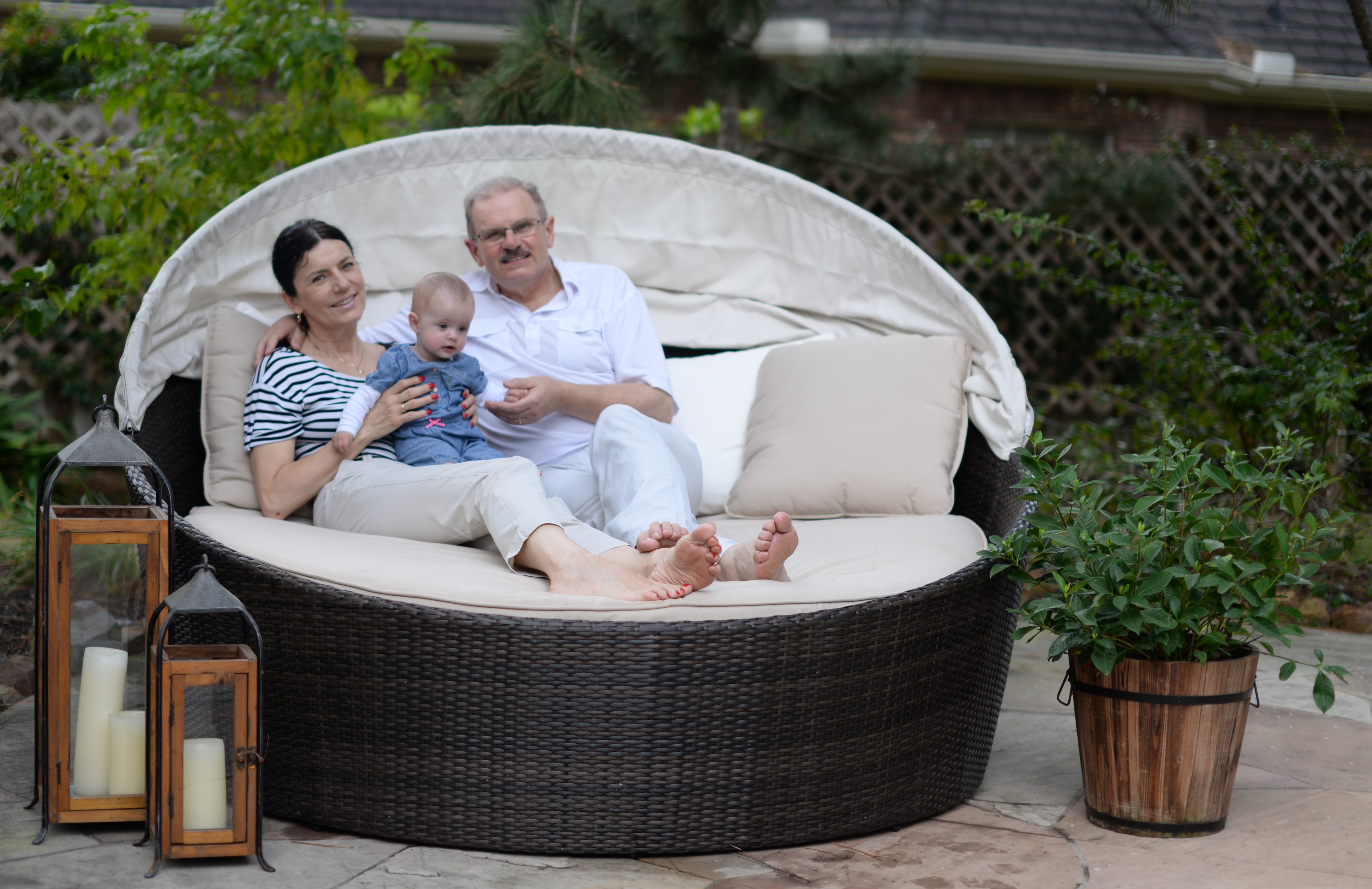 THE MAGIC GRANDPARENTS
Being the last two days away from the family I have lots of time for reflections. I spent the last few weeks at my family home in Gdynia and I'm so happy that I had this opportunity to be with my parents for so long. I love them and I love to share time with them. Now in our family when our little sweetheart is introduced to the family there are so many new wonderful emotions around us. You can also imagine that Grandma and Grandpa are in heaven 🙂
Grandparents play a crucial role in the little man's life. They are no less important than the parents. As I see there is something special about being grandparents. Considering my own experience, I can say with confidence that my parents love me the same as they love now – as grandparents – their first granddaughter. However, it's changing some perspective … They have more time, peaceful mind, they can attach more attention. My heart is bursting with pride and happiness when I see joy in their eyes when they see Celinka, when they take her in their arms, hug and talk to her, read books, tell stories and go for long walks. Our little one is only 10 months old now but I get the impression that she understands everything… watching and listening us carefully, focusing on conversation or story, and after a while delightfully taking grandfather's glasses off his eyes 🙂 Those are the moments that make most cloudy days sunny. Thank you my dearest parents for being always with us, supporting, loving, being our best friends, fantastic parents in law and amazing grandparents. You are everything to us.
Pictures taken in March 2015
                                                                                                      &
Będąc ostatnie dwa dni poza domem rodzinnym, bez męża, bez córki, bez rodziców mam czas na sporo przemysleń i refleksji. Ostatnie kilka tygodni spędziłam w swoim domu rodzinnym w Gdyni i jestem taka szczęśliwa, że miałam możliwość być z rodzicami na co dzień przez tak długi okres. Uwielbiam ich i uwielbiam dzielić z nimi czas. Teraz kiedy w naszej rodzinie pojawiła się mała istotka wprowadziło to dodatkowo tyle nowych cudownych emocji, a babcia i dziadek są w siódmym niebie 🙂
Dziadkowie odgrywają niezwykłą rolę w życiu małego człowieczka. Są nie mniej ważni aniżeli sami rodzice. Jest coś niezwykłego w byciu dziadkami jak widzę. Biorąc pod uwagę tylko własne doświadczenia, mogę śmiało powiedzieć, że miłość moich rodziców do mnie jest tak samo silna, jak miłość ich – już teraz dziadków – do swojej pierwszej wnuczki. Zmienia się jednak pewna perspektywa… Jest więcej czasu, spokoju, maleństwu można poświecić zdecydowanie więcej uwagi. Serce moje pęka z dumy i szczęścia jak widzę radość w ich oczach kiedy widzą Celinkę, kiedy biorą ją na ręce, przytulają, mówią do niej, czytają książki, opowiadają historie, chodzą na długie spacery. A to maleństwo, które co dopiero skończyło 10 miesięcy mam wrażenie, że wszystko rozumie… przygląda się uważnie, słucha, skupia wzrok, a po chwili rozkosznie zdejmuje dziadkowi okulary  🙂 To są takie chwile, które rozpromieniają choćby najbardziej pochmurny dzień. Dziękuję moim najdroższym Rodzicom, że są dla nas zawsze, wspierają nas, kochają, są naszymi najlepszymi przyjaciółmi, niezwykłymi teściami, a teraz nadzwyczajnymi dziadkami. Jesteście dla nas wszystkim.
Zdjęcia zrobione w Marcu 2015