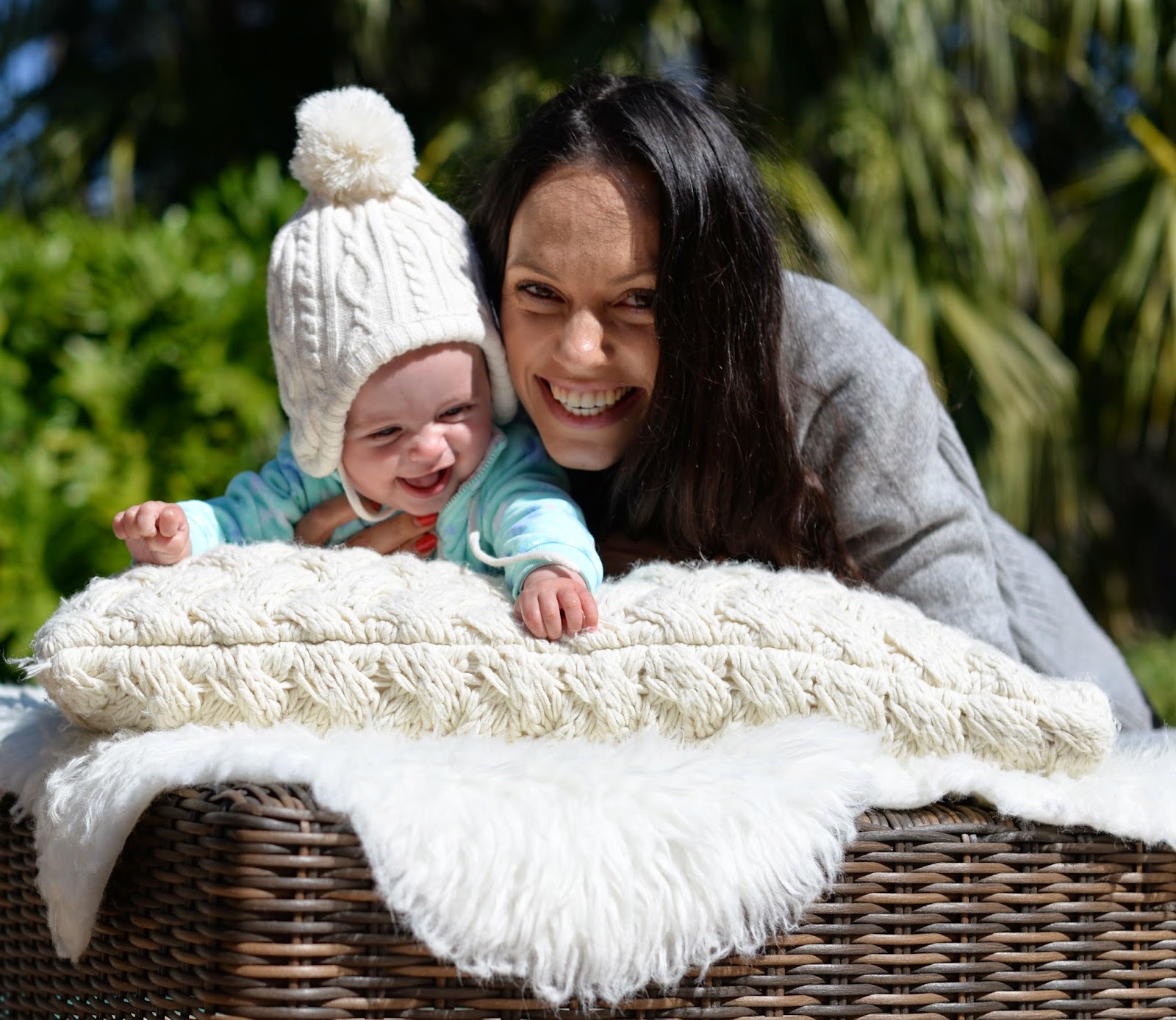 I GOT PROMOTED! :-) POLISH MOM IN TEXAS
I got promoted! Became a mom 🙂 The best feeling ever! Our daughter Celina just turned 8 months and my husband and I could not be happier ;-). Since early beginning, I knew it I want to stay with my baby for a year at home. Spending time with her is just a blessing!
Watching her developing, smiling, loving us, playing with our Rambo cat, recognizing different tastes and all the other little things which make up priceless moments 🙂
I'm a very active mom. My husband and I were also quite active before pregnancy… working a lot, studying hard, etc… Now our life has changed completely but one thing didn't change at all… we are still busy – even more! 😉 I'm Polish. I moved to Texas with my hubby and we discover now completely new places, people, habits, cuisine, weather and lifestyle. Am I a stay home mom? Right now yes. I really appreciate the freedom to have this possibility to stay at home with Celina. She is just adorable and I would have never imagined me not working for a while but now I'm so happy with my current situation! She gives me so much energy! I love to be fit-active, love cooking, baking, decorating the house, styling our little one, spending time with the family, exploring the new continent and doing pictures! The last one became my new passion! This actually encouraged me recently to start a blog! I'm full of energy and have so much to share! A polish mom in Texas… I want to show you how interesting your life can be when you are a mom. How healthy you can stay, get in a good shape, how to manage any everyday issues and continue to develop yourself. I'm used to be busy like I mentioned before and really wanted to expand my knowledge and put an effort in learning new things during my stay at home with baby. Photography became my hobby and I really enjoy it. I'm doing a professional course dedicated especially for moms and I'm just finishing my second level. This obviously keeps me busier but I love it! 🙂 My pictures are not perfect yet. I'm still learning and there is so much knowledge to discover and devise yet! Still in progress 🙂
So… that's me and Celina in a "cold" February Texas. Lots of friends are asking… so how does the winter look like in Texas? More or less like this… 😉 I do hope you will like it and enjoy!
&
Awansowałam! Zostałam mamą 🙂 Najcudowniejsze uczucie na świecie! Nasza córeczka Celina właśnie skończyła 8 miesięcy i jesteśmy najszczęśliwszymi rodzicami na planecie 😉 Od samego początku wiedziałam, ze chce zostać z Celinką przez jej pierwszy rok w domu i poświecić czas tylko jej. Patrzeć jak się rozwija, uśmiecha, gaworzy, bawi się z kotem, rozpoznaje smaki, kolory i wszystkie te małe drobiazgi, które są dla każdego rodzica tak ważne 🙂
Aktywna ze mnie mama. Zresztą zawsze tak było jeszcze przed ciążą… Teraz nasze życie zmieniło się całkowicie ale jedno nie uległo zmianie w ogóle… nadal jesteśmy zajęci 🙂 Żyjemy w Teksasie. Brzmi egzotycznie i tak też jest. Odkrywamy całkowicie nowe miejsca, ludzi, zwyczaje, kuchnie, styl życia, pogodę tak daleką od tej którą znamy od dziecka i wiele innych ciekawostek. Ogromnie doceniam fakt, iż mogę mój czas poświęcić obecnie tylko córce. Ona dopełnia nas całkowicie! Wcześniej nie wyobrażałam sobie nie być wiecznie pochłoniętą pracą w firmie i na uczelni. Teraz priorytety uległy zdecydowanie zmianie 🙂 To co jednak chcę podkreślić, to fakt, że macierzyństwo daje mi jakieś nieprawdopodobne pokłady energii! Ta własnie energia zainspirowała mnie do stworzenia bloga. Uwielbiam aktywny i zdrowy tryb życia oraz wynajdywanie ciekawostek na ten temat, pałam miłością do gotowania, pieczenia, dekorowania domu, stylizacji naszej małej kruszyny, spędzania czasu z rodziną, podroży i robienia zdjęć! Ten ostatni punkt stał się moją absolutnie nową pasją! Odkrycie, ze fotografowanie sprawia mi tyle radości, jeszcze mocniej przyczyniło się do napisania tego tekstu i wyjścia do Was 🙂 Mam w głowie tyle rzeczy, którymi chcę się z Wami podzielić i pokazać, jak ciekawe może być życie, gdy awansujemy na "mamę" 😉 Tematów w głowie mam milion… od zdrowego żywienia naszych szkrabów, przez ich modę, trendy i ciekawostki "maminkowe", różnice polsko-amerykańskie, po umiejętność radzenia sobie z różnymi codziennymi problemami i zagwozdkami dotyczącymi naszych słodkich istotek jak i nas samych. Bardzo zależało mi aby ten czas spędzony w domu był również czasem, który wykorzystam w pełni, dlatego postanowiłam zrobić kilka rzeczy dla siebie. Jedną z nich jest profesjonalny kurs fotografii, w trakcie którego jestem obecnie. Jest to kurs przeznaczony szczególnie dla mam. Kończę dopiero drugi etap, dlatego moje zdjęcia są jeszcze dalekie od profesjonalnych ale uczę się i sprawia mi to ogromnie dużo radości. Mam nadzieję, ze zdjęcia i treści co niektórych z Was pochłoną 🙂
A na początek… dużo znajomych pyta nas jak wygląda zima w Teksasie? Mniej więcej tak … 😉 (zdjęcia z lutego tego roku) Enjoy!