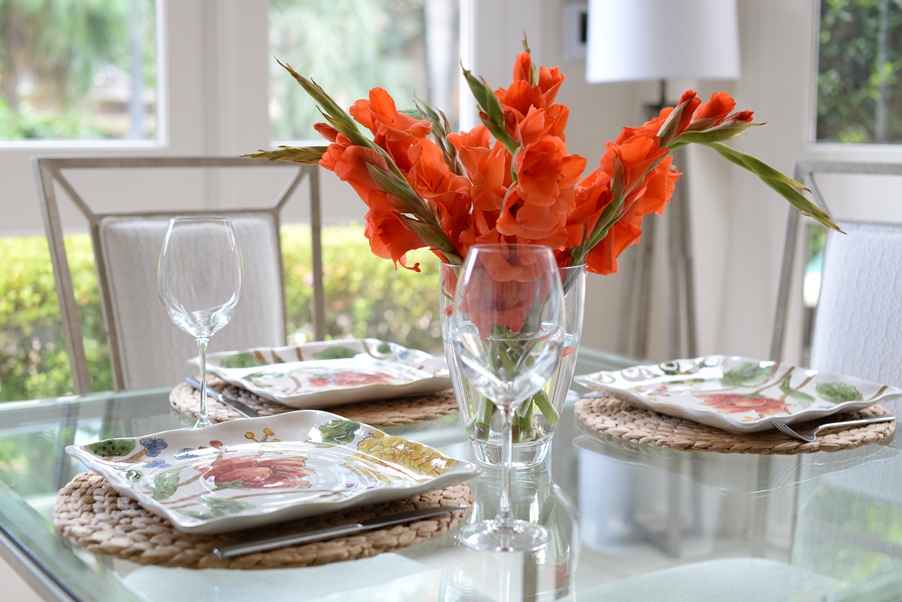 DINING BEAUTY – STOLICZKU NAKRYJ SIĘ
How often do you sit at the dinner with a full set table…?
I'm addicted to dining beauty. I love china and I've been collecting it for many years. Cooking is one of my passion but when I cook I like to serve in a classy way. The food tastes even better and you can enjoy your meal much more when you  pay a little bit more attention to decorative details. You don't need to spend lots of money for buying fency china tableware but use this what you have at home. Clean ironed tablecloth with matching napkins and nice flower on the table will give an exquisite effect! Those pictures below presents our table set from two different days and that's how we enjoy our meal everyday. Hope you fill find some inspiration!
&
Jak często zasiadacie do stołu w pełni nakrytego…?
Od dawna jestem uzależniona od piękna stołu. Uwielbiam porcelanę i kolekcjonuję ją od lat. Gotowanie to jedna z moich pasji ale to co stworzę lubię też pięknie podać. Wszystko smakuje jeszcze lepiej, kiedy usiądziemy do starannie nakrytego stołu i to nie od święta, tylko właśnie na co dzień. Dbanie o szczegóły nie musi być nadzwyczaj trudne. Nie potrzebujemy drogiej porcelany i wydania mnóstwa pieniędzy na dodatki. Wystarczy chwilę pomyśleć co do siebie pasuje, wyprasować obrus, podać pasujące do zastawy serwetki  a wszystko zwieńczyć kwiatkiem lub gałązką zerwaną na spacerze. Zdjęcia poniżej wykonałam w dwóch różnych dniach przed podaniem obiadu. Mam nadzieję, że znajdziecie w nich nieco inspiracji!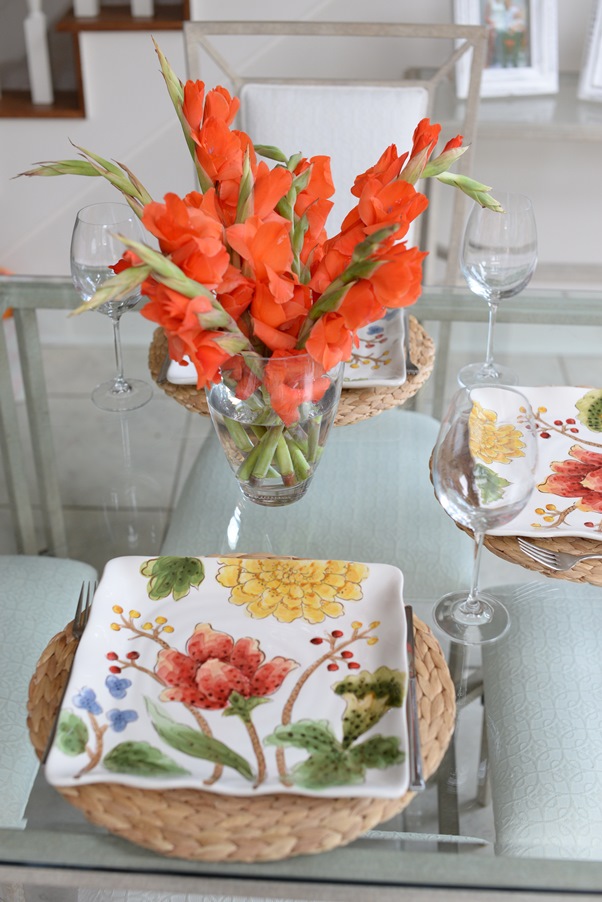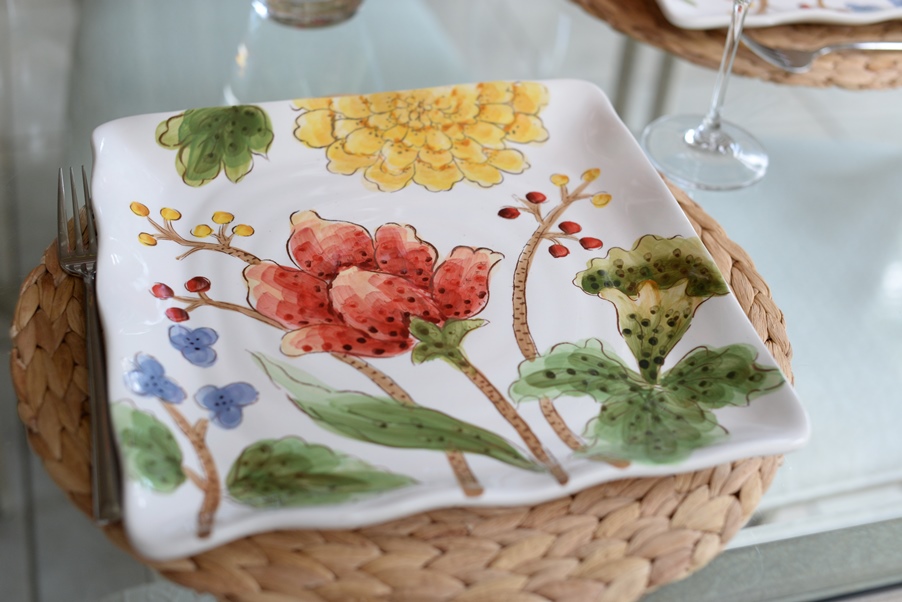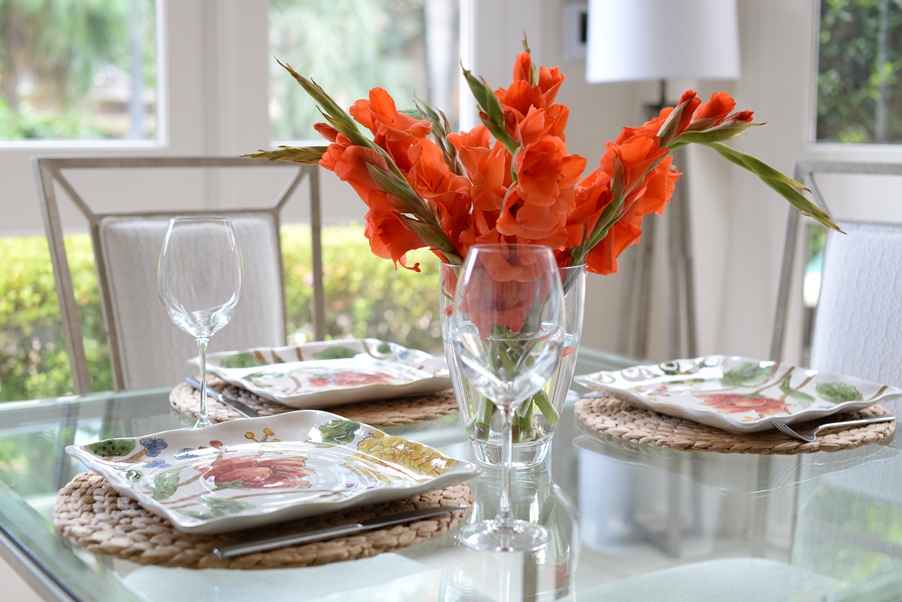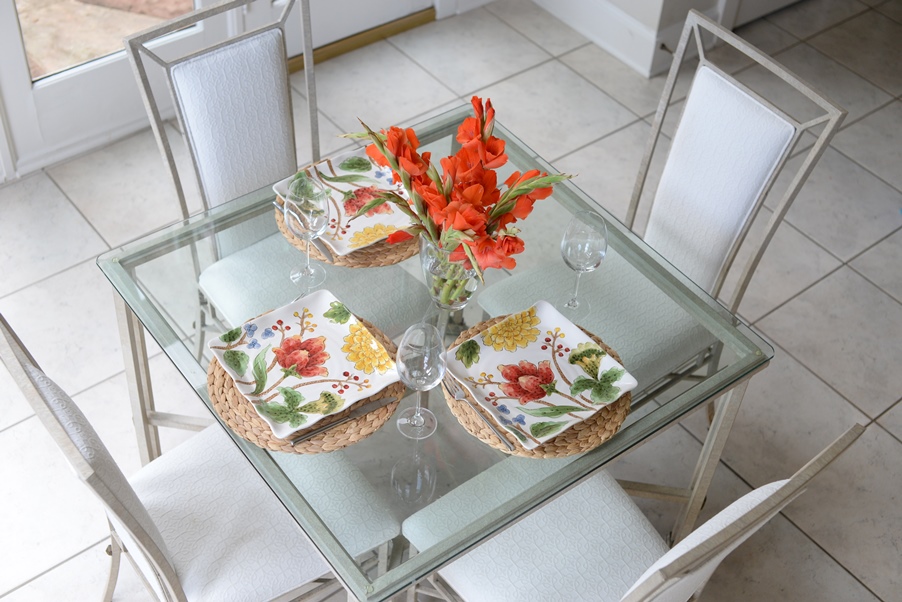 Here is a version with tablecloth. We have a glass table so sometimes I use dining table mats and some days I'm in mood for tablecloth. I especially like wicker table mats that look very natural and we can combine them with all colors.
Poniżej wersja z obrusem. Nie zawsze jednak mam ochotę na zakrycie całego stołu, dlatego często używam też  samych podkładek. Najbardziej lubię wiklinowe, które wyglądają bardzo naturalnie i możemy łączyć je ze wszystkimi kolorami.
Podano do stołu!
Second showing…
Druga odsłona…
Mum Floral Designed By Maxcera
I found it in HomeGoods. I have a set for 6.
Znalazłam ten zestaw w sklepie HomeGoods u nas w USA.
Dining Table Mats – IKEA
Podkładki – IKEA
Cutlery – AMEFA model: Metropole
Sztućce – AMEFA model: Metropol
Glassware – KROSNO
Kieliszki – KROSNO
Tablecloth – from France
Obrus – z Francji
Second set/Drugi zestaw:
LENOX Butterfly Meadow
It's our amazing wedding present from our dear Grandma Halina. We have a full set for 12.
To nasz przepiękny prezent ślubny od naszej ukochanej Babci Halinki. Mamy zestaw obiadowy i kawowy na 12 osób.
Tablecloth – from France
Obrus – z Francji